New Series "The Skinny" Tries to Make Bulimia Funny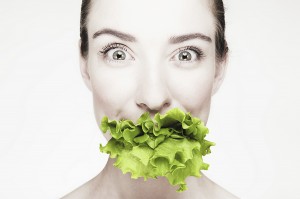 Television networks in the past have challenged themselves over and over to bridge the gap and create new and compelling content from some of societies more controversial or sub-cultural subjects. Even our biggest network shows have tackled taboos like drug abuse with shows like Breaking Bad. Things like abortion, sexual identity, racism and all types of other dark comedy and inclusive drama have hit the small screen in ways never before experienced.
Now with the internet being a modern means of viewing and sharing content, online series have developed through pod-casts and streaming videos that allow actors, artists and film-makers to step even further into uncharted touchy-topic-territories, and a groundbreaking new comedy is looking to breach another barrier by having eating disorders serve as the main attraction for its plot.
According to the National Association of Anorexia Nervosa and Associated Disorders, only 1 out of 10 people with an eating disorder receives treatment for it, and it seems it is by stepping out of the shadows and into the public eye that some hope to accomplish a change.
The Woman Behind "The Skinny"
In Los Angeles 30 year old filmmaker Jessie Kahnweiler has created a revolutionary new series called The Skinny. Kahnweiler herself plays the role of a "feisty, free-spirited Jewish girl named Jessie" who struggles with bulimia. The show seems to be written as an extension of Kahnweiler's own life experience, as she previously battled the eating disorder in real life, and is now taking her talents in cinematics and using them to spread her personal message, while being a bit of a parody of herself.
Currently Kahnweiler has a Kickstarter video to raise funds for the project, which features a few humorous clips from the show. In this video she provides some commentary about the project and her vision for the show, in which she states,
"I didn't feel like I had a problem because I wasn't thin enough. Nobody did. It's such a secret, personal thing; it was a mental thing…as someone who's had bulimia, nobody ever talks about it. And that's exactly why The Skinny needs to exist."
Kahnweiler said she sought help for her eating disorder two years ago, shortly after telling a friend she had overcome her battle with bulimia and purging once she got home. Although in recovery, she admits to still struggling with food, but believes her own food issues make releasing The Skinny all the more essential.
Kahnweiler insisted that The Skinny isn't all dark and gloomy, and that it's also very much about the search for love and the quest for self-acceptance that is universal. In this writers opinion those elements are increasingly important in this day and age when there is so much emphasis, especially online on body image. We are living in the selfie-society. Kahnweiler says she has yet to meet one girl who doesn't have some sort of relationship with food and body image, so even those who don't openly struggle with an eating disorder can still find some value in the message of The Skinny.
Support for "The Skinny"
What probably wouldn't come as a surprise, Kahnweiler has mentioned that network executives were "repelled" by the idea of a show where eating disorders took center stage, at least that's the kind of response she received.
But Kahnweiler was not about to let being turned down by everyone she spoke with stop her from chasing this goal. She decided that in order to succeed she would have to persevere, and she started her Kickstarter project in an attempt to raise $10,000 to cover the cost of post-production on the pilot.
During the clip for her Kickstarter, Kahnweiler says that many of the episodes have already been shot, and that the pilot will be released online this spring, but that there is still some need for financing to complete the editing process among other final touches to the show. The Skinny was even able to cast a number of well-known actors for the series, including veteran TV actor Illeana Douglas.
"I'm not going to wait until I'm Gwyneth fucking Paltrow to talk about it. I look at people like Lena Dunham and Jill Soloway, and they're artists in that they're putting it out there, and they're not waiting until they have it all figured out to make films. Being bulimic, I would've loved to see a show of the reality of it on television. I would have loved to see it handled in a way with humor and reality and vulnerability. I would've loved to see the show when I was suffering alone."
This series is attempting to break-out during a time when we are increasingly exposed to these true-to-life characters like those portrayed by various characters in Transparent, which is an Amazon show that was actually created by Kahnweiler's friend and mentor, Jill Soloway. The characters on this show experience drug use, gender changes, and exploring sexuality.
There are other female-centric programs like HBO's Girls with a main character who struggles with obsessive-compulsive disorder throughout the series that show us more and more people trying to use creativity and passion for their own stories, or the stories of those closest to them, to spread messages of experience, strength and hope in the media.
Some may argue that this kind of humor is in bad taste, or that it is insensitive. But when you consider the fact that this woman has faced down her own obstacles with an eating disorder, and still strives to live better and to raise awareness, it makes a little more sense that at least someone with that experience is trying to share it, not exploit the suffering of others or poke fun at a disorder she doesn't understand. Jessie Kahnweiler has first-hand fought this issue, and now she is asking for help to empower other women just like her.
When asked, Kahnweiler said her only regret is that there was not a show about bulimia sooner.
While this new series may bring some humor to the characters, the story of eating disorders and bulimia is no joke. Too many young people, especially women, suffer from serious disordered eating, which can be life shattering and even life threatening. But there is still a way for this kind of story to have a happier ending. If you or someone you love is struggling with substance abuse, addiction or disordered eating, please call toll-free 1-800-951-6135. We want to help, you are not alone.