Media
Orchid Recovery on ABC's 20/20
In April, The Orchid was featured on 20/20 – ABC Television's respected, long-running news magazine. This fascinating hour-long piece focused on the journey of women living with hidden alcoholism – including their time at The Orchid Recovery Center.
Click here to see this powerful program as it aired.
---
Orchid Featured on A&E's Intervention

Well-known addiction documentary, Intervention, featured The Orchid Recovery Center Monday, June 27. This episode of the A&E television series features The Orchid's recovery offerings for women battling in drug addiction.
Click here to watch Episode #144.
---
Life Addictions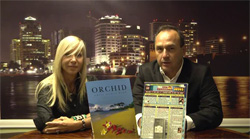 Lauren Seaman from Orchid recovery Center was featured on John R. Laus' "Life Addictions" in June.
Click here to watch this interview.
---
Tina DePaolis Showcased at Pembroke Pines

Reporter Judyth Piazza chats with Tina DePaolis, Orchid Recovery Center on The American Perspective Radio Program.
Click here to see this interview.
---
Women's Radio Interview

Orchid Recovery Center's upcoming interview with WomensRadio is scheduled to run from May 11th through Midnight on May 17th
---
Alcoholic Women Break Stigma
A recent article in Hollywood Today highlights Orchid Recovery Center's research into drug and alcohol addiction and offers insights into the recovery rates of women in rehab treatment programs.
---
Newsblaze Article

Orchid Recovery Center was interviewed for a recent article on prescription drug abuse published in Newsblaze
---











Free. Easy. Confidential.
Who Answers?
We have caring admissions counselors available 24/7