Cannibuster: New Drug Test for High Drivers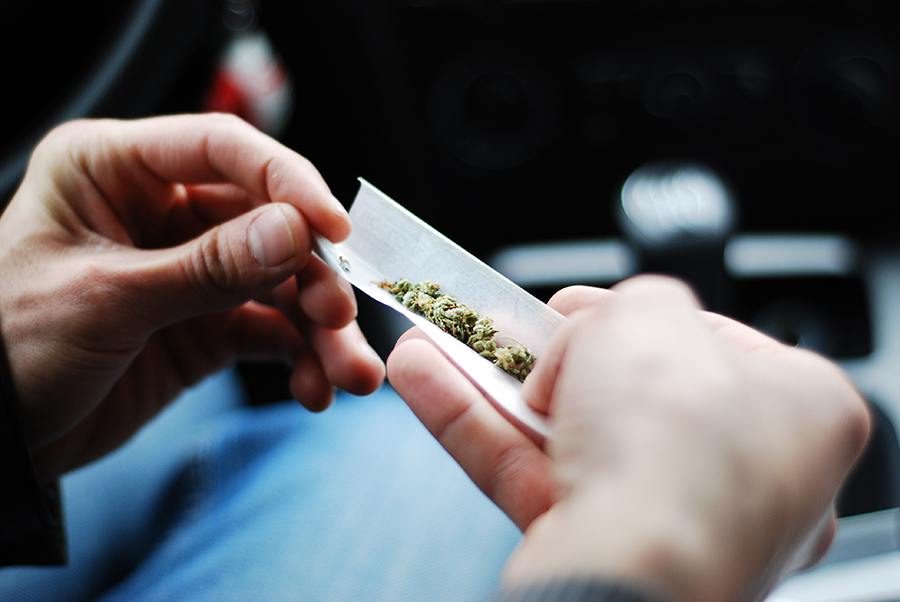 While there have been some promising advancements here and there as far as developments for a marijuana breathalyzer, it seems now two graduate students from Ohio have changed the game and potentially revolutionized the concept with a device that could give police officers across the nation a new advantage in detecting drugged drivers.
Drugged driving is a problem, and while drunk driving has taken center stage for some years it looks like drugged driving is snagging its own time in the spotlight. The 2013 National Survey on Drug Use and Health determined that marijuana was the second-most common substance associated with impaired driving after alcohol, and statistics show that up to 14% of car accidents in the United States resulting in injury or death came from drivers who tested positive for marijuana. The only question is with the way THC is stored in the body for extended periods of time, this may not be an accurate enough estimate as to how many were actually high while driving.
This whole concern has only become more relevant in the past year with the flourishing reforms taking place to legalize marijuana in many states for either medicinal or recreational use, and one has to wonder how many drivers in these states are getting behind the wheel while high and putting lives at risk.
Introducing the New Invention
The Cannibuster is a roadside testing device that was actually created by Mariam Crow and Kathleen Stitzlein, both are biomedical engineering graduate students at the University of Akron. It uses saliva testing and lab-on-chip technology to determine if a driver is under the influence of marijuana.
In states with legal marijuana laws there is a set legal limit with marijuana same as alcohol, and by measurement it is 5 nanograms of THC, which is the active ingredient in marijuana. But currently police don't have a convenient and reliable way to detect this in drivers suspected of being under the influence. Kathleen Stitzlein stated:
"Today if a driver is suspected of impaired driving due to marijuana, law enforcement officers must call an Emergency Medical Squad to the scene or take the driver to a local hospital for blood work. Lab results can take up to six weeks to come back, which is clearly not ideal."
However the Cannibuster only takes a few minutes to measure the exact concentration of THC in the driver's bloodstream.
Research and Development
Innovations like this are sure to catch some attention from both financers and public officials. The two pioneers behind the Cannibuster recently won a $10,000 LaunchTown Entrepreneurship award for this new technology that may set law enforcement on the track to saving lives, and their hope is to ultimately sell the device to these police markets.
They were also promised $20,000 worth of advisory services from local entrepreneurs to partner with law enforcement services in legal marijuana states to beef up their roadside stop resources.
In April there was a similar invention being boasted about that had been developed by researchers from Arizona State University. This was an app designed to determine if drivers were legally too high to drive using high-speed cameras that detect involuntary eye movements associated with marijuana use. Supposedly it is that simple. A driver just has to stare into a smartphone's camera and the technology will actually record the movements of the eye and use the data to determine whether you are fit to drive.
The hope with this invention was that individuals could download it to any smartphone or tablet and use it, and that authorities would be able to do the same until a more solidified method of testing drivers for drugged driving was made.
Now, it seems that we may have the answer to that. The Cannibuster has already received Ohio Third Frontier funding for further prototyping, so Akron, Ohio may be the beginning of a drug testing revolution for roadside cops across the country.
Drugged driving is something that we have to address as a community and as a society in order to evade the tragedies caused by it. Just like drunk driving it is an irresponsible and irreversible mistake when something like this causes an accident, and if you find yourself in the driver's seat drunk or drugged too often, you may want to get help before it's too late. If you or someone you love is struggling with substance abuse or addiction, please call toll-free 1-800-777-9588