Are We Born Addicts and Alcoholics?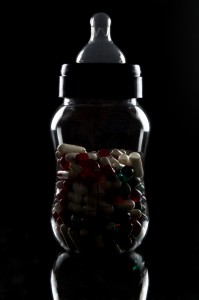 It is a common question, are addicts and alcoholics born that way? Is this disease genetic or environmental? I know that with most addicts and alcoholics, if you look at their family tree you will usually find addiction somewhere else in their family.
When scientists search for addiction genes what they are actually looking for are genetic dissimilarities that may make someone more or less susceptible to addiction. It may be tougher for people with certain genes to stop once they have started; or they may experience more intense withdrawal symptoms if they attempt to quit. Dynamics that make it more difficult to come to be addicted also may be genetic. For instance, a person may feel horrible from a drug that makes other people feel great. A person's hereditary makeup will never make them destined to inevitably become an addict, though. Environment makes up a large part of addiction risk; in my experience with addiction you can't have one without the other. Scientists will never discover just one particular addiction gene. Vulnerability to addiction is the outcome of many interrelating genes. Social and environmental influences add to this risk of addiction. It is becoming progressively clear that genetic factors also make a big difference on addiction. Just like other behavioral diseases, addiction exposure is a very complex characteristic. Countless factors define the probability that somebody will become an addict.
Scientists create pedigrees of big families with addiction as a leading step to understanding the disease of addiction. A pedigree can disclose whether or not a trait has a genetic factor. This can determine if it is passed down from parent to child by way of genes. Due to the fact that addiction is influenced by multiple genes as well as environmental risk factors, this can be a difficult procedure. Numerous genes and environmental influences can increase or terminate each other out. Not every single addict will carry the same gene, and not everyone who carries an addiction gene will display the trait.
Despite all the information I researched on being born an addict or alcoholic, I wouldn't go as far as to say that we are born that way (even though some people believe they are) but I do think that it doesn't matter what you are taught when growing up about addiction and alcoholism. Whether addiction was prominent in your family and you saw crazy stuff going on or if your parents were involved in DARE and anti-drug campaigns, I think if you were meant to be an addict or alcoholic that you will be no matter what.
For instance, my fellow blogger and I had completely different upbringings. I was raised with an alcoholic and drug addict father and when he was under the influence I vowed to never use drugs or drink. I hated the way addiction affected my family; but as soon as my father passed away from an overdose, I figured there must be something good about drugs and alcohol and gave it a try. It was all downhill from there. My fellow blogger was raised differently in the way that her mother worked in the safe and drug free schools office and was anti-drugs and alcohol. Her upbringing couldn't be any more different from mine, yet we both ended up here in recovery.
As of now, I'm not 100% sure on if we are born addicts and alcoholics. Both sides of the coin can be argued back and forth but in the end it doesn't really matter. If you are, you are. If you're not, you're not. Sometimes I think people now-a-days spend so much time trying to figure out why and the science behind everything when some things just are the way they are. Don't get me wrong, I understand the want to research addiction, but at this point in my recovery and my life it doesn't matter how I got here, all that matters is I am alive, in recovery and happy with my life today. If you or a loved one is struggling with substance abuse or addiction, please call toll free 1-888-672-4435.
Source:
http://learn.genetics.utah.edu/content/addiction/genetics/