Drug Treatment for My Wife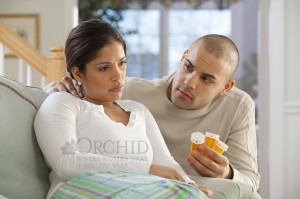 Drug addiction can touch any family member, and some husbands find themselves asking the question 'Where do I find drug treatment for my wife' but have no way of knowing how to approach the situation. In order to stop any other substance abuse you should be sure to ask yourself 'what would be the best type of drug treatment for my wife' or 'where is the best place for drug treatment for my wife'. Determining that your spouse has come to the point that you need to seek drug treatment for your wife to separate her from her addictions and unhealthy habits presents the question of how to go about that process in the most comfortable and effective way possible. Drug treatment facilities are the best place to begin the detox process, and depending on which one you chose, it could greatly impact the entire recovery process.
Drug Treatment for My Wife: How Should I Know?
These are just a few simple symptoms you want to look for in your wife's behavior when considering the need for rehabilitation.
Physical warning signs of drug abuse
Bloodshot eyes, pupils larger or smaller than usual.
Changes in appetite or sleep patterns. Sudden weight loss or weight gain.
Deterioration of physical appearance, personal grooming habits.
Unusual smells on breath, body, or clothing.
Tremors, slurred speech, or impaired coordination.
Behavioral signs of drug abuse
Drop in attendance and performance at work or school.
Unexplained need for money or financial problems. May borrow or steal to get it.
Engaging in secretive or suspicious behaviors.
Sudden change in friends, favorite hangouts, and hobbies.
Frequently getting into trouble (fights, accidents, illegal activities).
Psychological warning signs of drug addiction
Unexplained change in personality or attitude
Sudden mood swings, irritability, or angry outbursts.
Periods of unusual hyperactivity, agitation, or giddiness.
Lack of motivation; appears lethargic or "spaced out."
Appears fearful, anxious, or paranoid, with no reason
Drug Treatment for My Wife: Professional Facilities
Detox centers are designed to consistently provide the highest level of professional patient care. The facility you chose for your wife should be fully staffed with people who have extensive experience with related fields of therapy and holistic care, and with the health insurance industry. In order to create the most influential and positive changes necessary for rehabilitation the drug treatment you decide on should also actively offer personalized detox and aftercare programs. It is very important to give patients a variety of treatment methods and supports to choose from.
Drug Treatment for My Wife: Affordable Care
When you have to wonder 'can I afford drug treatment for my wife' you should know that many treatment facilities appreciate how recent years have consisted of changes that make in necessary to offer a new model of alcohol and drug addiction treatment without financially creating obstacles for you or your family, especially if the income will be affected by your wifes absence while undergoing this important transformation.
The right kind of treatment center will give your family hope, so that your significant other can receive the therapy and health care they need, with options for assistance for all who qualify and other payment arrangements. You want to seek out a facility that will do possible to provide quality treatment in the most cost-effective way.
Drug Treatment for My Wife: Strong Medical Staff
Qualified drug treatment centers come complete with nursing and other medical staff that is experienced in the area of drug addiction, substance abuse, and alcohol addiction. From my personal experience you need a staff that commits to being attentive and supportive. Asking 'how will drug treatment for my wife see to her medical needs' is very necessary, and in the proper facility symptoms or withdrawals should be addressed and cared for with compassion and done as effectively as possible. The medical staff should be more than willing to explain the medications you wife is to take to help her through the process of physically detoxing, and any other health issues she may need attended to.
Drug Treatment for My Wife: Continued Recovery
Education for patients on the continued maintenance of recovery from addiction and substance abuse is essential to a productive foundation. The disease of addiction is one that does require staying active and growing after detox, and there are all types of treatment programs and after-care resources available for your loved one after completing time in drug treatment. These programs are established to show your wife new ways to work on self-improvement and continued recovery to build her new foundation for a new life. This also makes the process of transitioning back home easier for your wife once she has completed her treatment.
As a wife and a mother a woman trying to recover from alcohol or drug addiction has many challenges to face and emotional conflict to resolve. It is a very important process and should be handled with the utmost care and compassion. If your wife or someone you love is struggling with substance abuse or addiction, please call toll-free 1-800-777-9588