Can Microsoft's 'Smart Bra' Curb Overeating?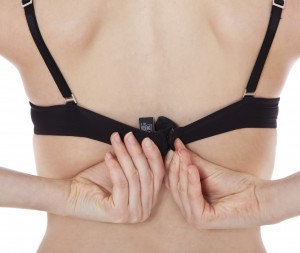 In this day and age, technology has definitely become the way of the world. It's no longer enough to have smartphones, smart cars, smart watches and smart TV's. Now a tech company is bringing artificial intelligence to undergarments. Researchers at Microsoft have developed a prototype of a "smart bra" embedded with physiological sensors that seek to monitor a woman's heart activity to track her emotional moods and battle overeating. The sensors can signal the wearer's smartphone, which then flash a cautionary message to help her step away from the fridge and make better diet decisions.
In a bra, though? This idea sounded crazy to me at first. It was decided to be used in a bra because they were looking for something that is comfortable when worn for an extended period of time. Studies have shown that when people are stressed, bored or unhappy they reach for high calorie foods; otherwise known as 'comfort food.' In the bra there is an EKG sensor that monitors the person's heart rate and an EDA sensor tracking their perspiration. Apparently, the smart bra has proven effective in being able to read a person's emotions and the change of them.
There is still no word yet on an undergarment for men, but it is a possibility. Women's responses to this new 'smart bra' are anywhere from thinking it's hilarious to being insulted. I completely understand the part about being insulted; why go straight to making a bra for women? Honestly, I have a hard enough time coming down on myself for how much I eat and watching my weight, let alone having my bra tell me I'm in danger of overeating.
They have been creating all types of new technology in reference to being able to detect people's moods, emotions and feelings. It is difficult enough for me not only identifying what I am feeling, but accepting it myself! I guess it would be kind of cool to have a computer tell me what's going on but is technology taking it a little too far? Imagine what this bra could do to girls or guys with Eating disorders. It would be a horrible reminder of every time you even think about eating which could just end up triggering the disease and intensifying it.
In my opinion, this new product could end up being dangerous. The way that society is today it tells women that they have to be a certain size and look a certain way to be 'beautiful.' Beauty comes in all shapes and sizes, though. Can Microsoft's smart bra curb overeating, though? There could be certain situations where the bra could be helpful, like with someone who is having a problem with overeating and it is becoming a risk to their health. I think that should be the only type of a situation the smart bra should be used in; not used to tell someone they're sad or stressed and are in danger of eating too much food. That would just make me feel so much worse. Especially being a recovering alcoholic and addict, I am my own worst critic. I'm very interested to see how this all turns out and what develops from this smart bra. If you or a loved one is struggling with substance abuse, an eating disorder or addiction, please call toll free 1-888-672-4435.
Source:
http://www.cnn.com/2013/12/04/tech/innovation/microsoft-smart-bra/