Why Losing Weight Won't Make You Happier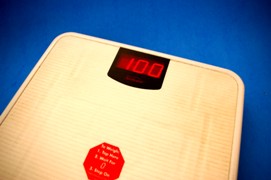 "Nothing tastes as good as skinny feels" – you've probably heard this or seen it somewhere on a billboard or in a fashion magazine.
Sure, you could get a temporary high from squeezing into your skinny jeans, but losing weight certainly isn't the key to happiness.
Now, there are tons of reasons why you might want to lose weight—to get in better shape, to boost your overall health, or even to feel beautiful on your wedding day. But if happiness is your goal, know this: losing weight won't necessarily make you happier, according to a recent survey for So Fabulous, a plus-size clothing line from the U.K.-based retailer Littlewoods.com.
The survey asked 2,000 women about their current size, happiness, and body confidence. They found that 49 percent of those whose weight had fluctuated in the past few years were happiest at a size 16 (roughly a size 12 to 14 in the U.S.). Plus, 52 percent of size 6 women (size 2-4 in the U.S.) would prefer to be curvier, while women sized 6 to 10 in U.K. sizes were more critical of their bodies than women who wore larger sizes.
Thin but Not Secure
Being thin does not mean being secure or safe, and one reason why being thin won't make you happy is because it always gives you a false sense of security, yet never delivers. For me, I thought if I was thin enough, I would feel secure in my image and I would be thought of as "right" by keeping control over an area of my life like food and body weight. Being obsessed with being in control of your weight does not make you secure or safe. It only drives you mad, steals your joy and takes away your self-esteem.
Constant Battle
Being thin doesn't automatically make you a better person, help you make more money, deliver eternal salvation or shield you from emotional pain. It only gives you a low number on a scale that you have to constantly work to keep up with or maintain. This constant battle becomes a mental nightmare, and a constant worry that if you don't stay thin, people will think you let yourself go.
Thin ≠ Healthy
Some people can eat healthy and remain thin. For others, no matter how healthy they eat, medical issues and genetics interfere. We shouldn't equate thin to healthy, or thin to sick. Thin is simply a description of a body, just like sexy, curvy, healthy, etc. When you equate thin with being happy, it becomes less of a discussion on health and more of an obsession.
Thin ≠ Beautiful
Being thin won't make you beautiful, and beautiful should have nothing to do with a weight anyway. Many of us perceive thin as beautiful, but instead, we should be seeing fit, healthy and happy as beautiful. Real happiness comes from our attitude towards life, a healthy body that gives to others, and taking care of ourselves because we love ourselves, not just because we're trying to fit into an image. Most men found me less attractive when I weighed my lowest and found me more attractive at my highest weight.
If you or a loved one is struggling with body image or substance abuse issues, please call toll-free 1-888-672-4435
Sources:
http://www.womenshealthmag.com/
http://weightloss.allwomenstalk.com/