5 Ways to Improve Body Image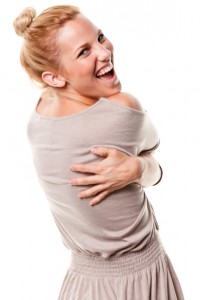 Body Dysmorphia, or body image disturbance, refers to a condition that can be described as a distortion in self-perception where the person sees as imagined defect or their overall appearance in a negative way that really is not accurate to what they actually look like. People with body dysmorphia sees themselves as fat even when they are not, and as not pretty enough, even within.
Negative body image is at epidemic levels. Hundreds of millions of girls and woman across the planet are struggling with the pain and limitation of negative body image every day, and it is a major contributor to the equally-alarming epidemic of eating disorders.
According to the National Eating Disorder Association, 10 million women suffer from eating disorders. In order to improve body image, it requires overcoming deep-rooted issues in the face of pervasive, influential and misleading standards of beauty as seen in advertising and other cultural aspects. Replacing negative, self-defeating thinking about our body image with more realistic, self-enhancing self-talk is key to improving body image perception. Here are five ways to improve body image:
Ways to Improve Body Image: No more comparing yourself to others
This is a death nail for any of us. In a world full of magazine covers that tell us that our bellies should be flat, our boobs should be perfectly round, and our face shouldn't have one wrinkle, how are we supposed to feel beautiful? Stop comparing yourself to cover models. They spend a lot of time getting their hair filled with extensions, makeup done and airbrushed by professionals.
Ways to Improve Body Image: Tell yourself that you are unique
Everyone has something that they would like to change about themselves. If you keep wishing that you had your best friend's lusciously thick hair, or someone else's long, lean legs, you won't be able to know that what you are is unique and beautiful.
Ways to Improve Body Image: Practice self-care
Self-care is vital for our well-being. Take at least 10-15 minutes of me time every day. Take a walk, listen to music, and write in a journal, read a book. If you don't fuel yourself and your body with loving care how are you ever going to be able to fully give it to somebody else? When we are happy those around us are too.
Ways to Improve Body Image: Be grateful for what you have
Point out the different qualities about yourself that make you unique and beautiful. Do you love your eyes, smile, hair, arms, legs? Write a list of the things about yourself that you are grateful for.
Ways to Improve Body Image: Focus on what you can change
Rather than focusing on all of the things you don't like about yourself, redirect your energy to what you can do to change, like toning up. Take a spinning, yoga or Pilates class, lift some weights. Not only does exercise increase our endorphins, we also feel so much better about ourselves when we take care of our bodies.
If you or a loved one is struggling with body image or substance abuse please call toll-free 1-888-672-4435
Sources:
http://www.bravotv.com/la-shrinks/season-1/blogs/the-doctors-in/5-ways-to-improve-body-image-without-breast-impants