Women, Tattoos and Alcohol Addiction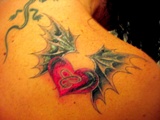 Women make a lot of choices during alcohol addiction that they have to live with for the rest of their lives – tattoos are just one of them. Many celebrities have bemoaned their tattoo choices, claiming that they were drunk when they got them. Waking up the next morning – or one day, years later in alcohol rehab – and looking at a tattoo gotten while under the influence can be a negative experience for many women. How do you handle those tattoos? What about other choices made under the influence that still haunt you after treatment? How do you handle those?
Tattoos and Alcohol Addiction
The name of an ex-husband or ex-boyfriend. A cartoon character. A butterfly or dolphin or flower. An angry message. Whatever it is, you may have thought it was a good idea when you were drinking, but now… not so much. You have three choices when dealing with tattoos after alcohol rehab: get it covered up, laser it off, or embrace it. Be forewarned: laser treatments are painful, take years to be effective in some cases and may not work on some colors, especially yellow and green. Covering up a tattoo means, obviously, another tattoo, which you may also dislike in a few years – plus, the first tattoo may still be somewhat invisible underneath. Embracing it, the simplest and least expensive option, is often the most difficult mentally. Which one will work best for you?
Choices in Alcohol Addiction
There are other choices many alcoholics make during alcohol addiction that bother them in recovery. Some of them are not as visible as a tattoo, but they are haunting, nonetheless. Guilt associated with lies, theft, manipulations and other hurtful choices made under the influence are not easy to face when you come home. Neither is it easy to face the people you hurt. The best way to handle this is on a case by case basis. If there is any way to make amends to the person you hurt by offering an apology, repaying the money you took, or replacing a piece of property that you damaged, do it.
Dealing with Alcohol Addiction Choices After Alcohol Rehab
If there's no way to fix the past with comparable actions, a sincere apology is one of the best things you can do. Working through feelings of guilt with a therapist is another option to help you let go of the past. Talking about what happened, telling the truth out loud – often for the first time – can be extremely cathartic. Talking through your feelings of guilt can also stop you from relapse, since this is one of the primary emotions that cause problems during recovery. A therapist can help you come up with ways to handle those feelings and process them in an effective way so that you don't end up drinking to hide or drown those feelings.
Alcohol Rehab at Orchid Recovery Center
If you have not yet enrolled in an alcohol rehab, contact us at Orchid Recovery Center for women. We're here to help you make the changes you need to start a new life without alcoholism.