Wine Made from Tiger Bones Endangering the Species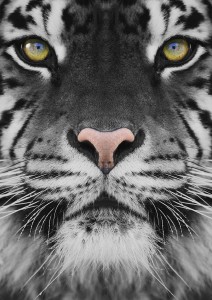 Have you ever wondered about the cost of some alcoholic drinks, and the prices being paid beyond the price-tag for some of these beverages to be made and marketed. In China, one recipe has been used for making an exotic and expensive wine for a long time, and one of the main ingredients is putting the tiger species in danger.
Last year, the UK-based Environmental Investigation Agency (EIA) took a closer look at the tiger trade in China, during which they had found that some companies are issued licenses to actually breed endangered animals, including the South China Tiger.
Tiger Bone Wine
Xiongshen Tiger and Bear Mountain Village in Guilin is one of the country's largest tiger farms is a small town in southern China. Here there are reports of hundreds of tigers living in trifling enclosures and cages made of concrete and rusted metal.
Twice daily some of the animals are trained to perform a show, but the main attraction isn't the shows. Instead it is a strong wine, tiger bone wine to be specific. Tiger bone wine is made when you take rice wine and soak tiger bones in the liquid, becoming more valuable the longer it has soaked. Some people think they should feel less guilty drinking wine… think again!
Sometimes this alcohol can be purchased in tiger-shaped bottles, and they are often referred to as healing tonics that promise to help cure numerous ailments, such as:
Tiger bone wine can actually be extremely expensive depending on the age. At Xiongshen Tiger and Bear Mountain Village prices are often as stated:
3 year-old bottle typically sells for what would translate into $80 of American currency
6 year-old bottle can be around $155
Vintage variety about $290
Most of these bottles list the key ingredient as:
"the bones of precious animals,"
That label means that these specific bottle contain a piece of tiger skeleton. The special bottles are often reserved for senior government officials, or even used as bribes for political favors.
Businesses that breed these animals were issued a notification by the Chinese government in 2005 that was designed to enable the pilot use of captive-bred tiger bone for medicine. In fact, traditional Chinese medicine outlines the uses for each component of a tiger. There are old traditional remedies can utilize every piece of a tigers body, even the whiskers.
That notification from Chinese government back in 2005 revitalized the tiger bone wine industry, and the drink was invigorated as an indulgence for the elite.
Don't Drink Endangered Animals
Those who have invested in tiger bone wine production justify what they do by citing a loophole: They're not actually selling tiger bones, so they are in the clear of the law. Now recorded as recently as 2011, large public auctions that feature exclusive sales of tiger bone wine still took place.
However over some time conservation groups publicly condemned the auctions, and the trade moved out of the auction room, but ironically to a much bigger platform- online.
The demand for tiger bone wine, combined with the trade in tiger pelts, has hugely diminished the population of an already endangered species. While there are some tiger farms like the one in Guilin that are meant to raise their own, it is cheaper to kill wild tigers than to raise captive-bred ones.
Because of the heavy price of this outrageously costly alcohol, poaching has become extremely lucrative across Asia, and plenty of damage has definitely been done. Today there are only 4,000 known wild tigers in existence! Another estimated 5,000 to 6,000 live on farms. That may sound like a lot, but considering that means there are probably just barely 10,000 in the entire world it seems very dismal a number before a species goes extinct.
Tiger bone wine is a pretty extremely example of some of the prices we pay for alcohol, but yet it is still a reality. While this may be completely irrelevant to some people struggling on an everyday basis because you can't have tigers in your halfway house, it may present some kind of window into how humanity as a whole, and especially alcoholics, can be so selfish in order to drink the way we want to drink.
Now a beautiful species is in danger of being wiped off the face of the earth for the sake of some 'mircale cure' merlot.
Maybe no tigers died in the making of your drink or drug, but the point is that the choices we make involving our drinking and drugging can make bigger waves than we know sometimes. If you or someone you love is struggling with substance abuse or addiction, please call toll-free 1-800-777-9588