Teen Mom 2 Chelsea Houska Says She's Not Addicted to Ambien and Alcohol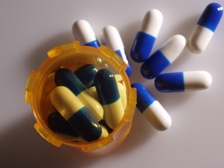 When you're in the spotlight, rumors fly fast and hard, and reality TV stars like Chelsea Houska of Teen Mom 2 are learning that the hard way. Pregnant at a young age, her first steps as a mother were recorded by cameras and, as fans watched, she worked through struggles common to teen motherhood: relationship issues, school problems, work woes, scheduling problems, childcare, sleep deprivation, and more. Recently, though, rumors have started to circulate saying that Houska is addicted to Ambien and alcohol, indulging in both after her daughter, Aubree, goes to sleep at night. Houska's response? Not a chance.
Fighting Rumors of Addiction
Though both Star and HollywoodLife printed that Houska was addicted to Ambien and taking it with alcohol, Houska and those close to her say that is emphatically untrue.
One friend says: "It's completely false and disgusting. She'd never do anything to jeopardize her life or her daughter's. It frustrates her since she feels it affects how people think of her as a mother and it's not even true."
Houska herself tweeted: "Good thing outlets like @star_news (star mag) & @hollywoodlife have "accurate" sources that tell them false stories about me, nice research work :/".
Ambien and Alcohol
Both Ambien, a prescription sleep medication, and alcohol on their own can be dangerous – especially when the person taking either substance is the only caregiver of a small child. Take too much and the senses become overwhelmed – those who use either drug can end up passing out rather than falling asleep and being unresponsive when the child wakes up or an emergency occurs.
Take them both together, and you increase the effect of both drugs exponentially. Ambien and alcohol together have a synergistic effect, which means that their effect when combined is far greater than the sum of their effects when taken separately. The uninitiated can be overwhelmed by how they feel after their usual dose of Ambien and a single alcoholic beverage, and those who choose to push the limits can end up blacking out or overdosing.
Treatment for Drug Abuse
Even if you have a prescription for Ambien, taking it with alcohol is contraindicated. But many are unable to quit abusing drugs and alcohol once they start. If that describes you, you don't have to go through it alone. Help is available. Contact us today to learn how we can help you fight drug dependence to protect your children and yourself from further harm.