Farrah Fawcett and Ryan O'Neal's Son Making Progress in Drug Treatment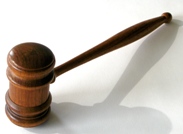 Redmond O'Neal has many demons to face on his path to sobriety, but he appears to be making the preliminary steps necessary to be successful long-term. O'Neal, the son of the late actress Farrah Fawcett and film star Ryan O'Neal has had a long and sordid history with drug abuse. He was even in jail due to his drug issues when his mother was ill and passed from cancer.
After being released from prison on probation, O'Nel was rearrested this past year in August after being caught with heroin in his car and a firearm in his apartment. He was court ordered into drug treatment. At O'Neal's latest hearing to assess his progress in rehab, he was applauded by the judge for his successes thus far.
O'Neal Appears to be Laying the Foundation for a Lasting Sobriety
The judge noticed O'Neal had put on some weight since his last court appearance, a stark change from when he was emaciated due to drug abuse. The judge pointed out that the weight gain was a very positive indication that O'Neal was working his program.
O'Neal reports that he is now working out five days a week and studying to receive his high school equivalency diploma. He also said that he looks forward to participating in his counseling sessions because they are finally allowing him to confront the childhood issues that led him down the path of addiction in the first place.
Upon reviewing notes from O'Neal's therapists and doctors, the judge praised his progress. He encouraged O'Neal by telling him that there is no reason now that he can't be successful with his treatment and even suggested that he look into a career as a drug counselor when his life is more stable.
Why is O'Neal not in Jail?
Some may wonder why O'Neal is currently in an inpatient drug treatment center and not in prison due to his drug offenses. The answer is simple: because addiction is understood to be a mental illness, many judges are choosing to put drug offenders into rehabilitation where they can receive treatment rather than simply punishing them with a jail sentence. Studies support this decision, showing that it costs taxpayers less over time and there are far fewer repeat offenders.
O'Neal is by no means out of the grasp of law enforcement yet. If he fails a drug test and relapses, he may spend as many as six years in prison. Hopefully, O'Neal won't have to worry about that possibility. With the help of quality addiction treatment, he is finding his sober footing and has a strong chance of remaining on the straight and narrow from here on out.
Do you think that court-ordered drug treatment, jail time, or some combination of the two is the best approach for drug offenders? Share your thoughts below.