Mother Charged with Giving Her Baby Methadone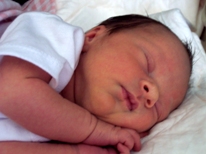 It's not an uncommon scenario: a woman addicted to heroin realizes that she is pregnant. Unable to stop abusing heroin on her own and in fear for her baby's life, mother seeks help from doctors. Because of the great deal of knowledge we now have about the nature of opiate addiction and its effects on the baby, doctors can easily help addicted mothers-to-be to switch from heroin addiction to methadone maintenance during their pregnancy and avoid the risk of overdose as well as limit the risk of miscarriage.
The problems start when baby is born addicted to methadone. This is a known factor when the mother is addicted to heroin or methadone throughout pregnancy and its one that is planned for. Babies generally stay in the hospital to make sure that they detox correctly and safe under the care of medical professionals.
In one case, however, the addicted newborn was released with her mother and this proved problematic. The mother was given methadone both for herself and for the baby and told to slowly wean the child off the drug over three months' time. Unfortunately, mother didn't follow doctor's orders. She continued to give her baby the methadone – not maliciously, but because she wanted to ease her baby's withdrawal symptoms – using portions of her own doses and keeping the child on the drug for 14 months total.
Despite her intent, it was still a dangerous thing to do. The mother has been diagnosed with bipolar disorder and other mental health issues in addition to her long-time battle with heroin addiction, and that is being taken into consideration. She won't go immediately to jail for her actions but because she admitted to a felony charge of reckless endangerment, she will spend five years on probation and will end up in prison if she doesn't make better choices in the future – i.e., avoid heroin and other drugs of addiction, care well for her baby, and avoid engaging in any other criminal acts.
The mother also had her baby removed from her by social services. However, because she was so cooperative with her caseworkers and did everything asked of her including completing parenting classes, she now has supervised contact with her child and is moving closer to being able to regain custody.
If you are pregnant and heroin addiction is an issue for you, seek help immediately. Getting the drug treatment you need – including methadone maintenance – can save you and your child. Ready for serious heroin rehab? Contact us at The Orchid today to find out how we can help.