The Brain-Gut Connection and Anxiety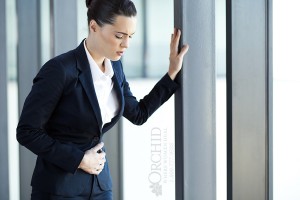 Are you taking a daily probiotic? Eating a healthy, well-balanced diet? If you couldn't already tell, this article might get a little personal. After all, we're talking about the health of your gut and if you're 'regular.'
Understanding the mind-body-spirit connection is essential to good physical health and mental well-being. That's why holistic treatment, whether for a physical ailment, mood disorder, or substance abuse disorder has been found to be the most effective approach for treating what ails you.
And science is showing us that promoting good digestive health is a crucial piece in the treatment puzzle. Research shows that the bacteria in your gut can directly affect your behavior and emotions. This might be surprising for many and often overlooked by even healthcare providers when it comes to treating issues of mental health, such as anxiety.
The Brain-Gut Connection and Anxiety
So, just how connected are the brain and gut? First of all, the two are actually physically connected by way of the large vagus nerve, which keeps the brain and gut in constant communication with one another. Therefore, there is actually something to be said for having a "gut feeling" or feeling butterflies in your stomach.
Researchers in Ireland found that when the vagus nerve in mice was severed, they no longer saw the brain respond to changes to the beneficial bacteria in the rodents' bowels.  Scientists have also begun to study certain neurochemicals that they are finding to be produced by certain bacteria. The implication is this: that gut microbes can produce their own version of neurotransmitters, such as those found in the brain (i.e. dopamine, serotonin). This is another way that gut microbes might be communicating with the brain. Therefore, having a healthy gut means having a healthy mind.
What You Can Do to Manage Anxiety
There are all-natural ways to manage your anxiety. Consider these 4 suggestions:
#1. Eat more 'whole' foods
Choose fruits, veggies, whole grains, beans, and lean proteins.  Limit your intake processed foods, sugar, alcohol and caffeine. Start with small changes. Order a sweet potato instead of fries, eat only half of your dessert, get the steak instead of the burger – so you're not tempted to eat the bun. The changes should feel do-able, not overwhelming or anxiety-producing.
#2. Increase your self-awareness
Pay attention to what you're eating and portion size. Take note of how you feel after eating. Notice whether you experience fatigue, bloating, anxiety, gas, reflux or any other symptoms and what foods you ate prior to those symptoms. This will allow you to pinpoint patterns and become aware of what foods don't agree with you. Continually eating foods that cause undesirable symptoms can be causing damage your delicate digestive lining and balance of good bacteria. Consider keeping a food diary for at least a week that details what you're eating and how you feel each time afterwards.
#3. Eat foods rich in probiotics
These include yogurt, kefir, sauerkraut, and other fermented foods. Probiotics are organisms such as bacteria or yeast that are thought to improve health. It's always best to get all your nutrients from foods but, they are also supplements you can take.
#4. Reduce Stress
The digestive lining is actually very thin and stress can damage it. That's how ulcers form. Practice relaxation techniques, such as meditation and breathing exercises, use positive self-talk and engage in activities that you really enjoy. Managing stress will help you to heal from the inside out and also reduce your symptoms of anxiety.
If you struggle with an anxiety disorder, even with making healthy lifestyle changes, seeking professional help is of the utmost importance. Your mental healthcare provider might suggest therapy, alone, or combined with medication, depending on your situation. Antidepressants and other psychiatric medications can support you in your recovery from alcoholism or addiction because, silently suffering with a mood disorder is counter-productive to living healthy and sober. Call toll-free 1-800-777-9588 if you're struggling and want help. You are not alone.