Say Yes To Your Life And Drug Rehab
People with a drug or alcohol addiction have usually suffered a lot.  Dealing with a lot emotional pain over an extended period of time takes a big toll on someone, and some people turn to drugs and alcohol when it gets too hard.  It's hard to suffer through things, but it doesn't mean that all hope is lost for a better life.  Drug treatment and drug rehab are designed to help you pull through the difficulty and do something healthy.
Suffering Through Drug Addiction And Everything Else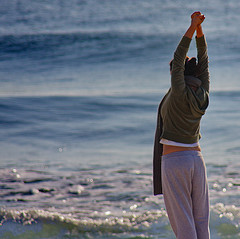 Viktor Frankl was a Jewish doctor and psychologist who survived several concentration camps during World War II.  He developed his psychology career with discoveries he made during that time.  He learned a lot about himself and others through their times of suffering.  The German title of his most famous book translates to English as "saying yes to life in spite of everything."
I love this translation because it relates so well to the experience of a recovering drug addict or alcoholic.  Actually, it also makes sense when thinking of a person who's had a mental illness such as depression or anxiety.  So much suffering, little hope, and no idea when it will end.  Yet, in order to get better these people must do something to say "yes" to their own life in spite of what they are feeling at that moment.  At their darkest time, saying yes to life may be extremely difficult.
That's why it's so important for a drug addict to trust that starting drug treatment or alcohol rehab is a good thing even if they feel unsure.  The "in spite of everything" part is what's hard to overcome.  It gets easier once someone has shown you the way during drug treatment.  But until you are experiencing the benefits, it can be hard to believe that it would do any good.
Saying Yes To Drug Treatment
Doing drug treatment and staying sober is how you say yes to your life in spite of your childhood abuse, in spite of your depression, in spite of your parents' chaotic problems when you were small, in spite of the tragic losses you've been through.  Choosing to go on is making a choice of courage.  It's comfortable to stay in the bad place that you know.  It's uncomfortable to take the leap of faith that there is something worth doing in spite of everything.
Drug rehab counselors are there to help you with this process; you won't be alone.  You may not have a lot of hope that drug rehab will help, and you may be scared.  But just because you have a feeling doesn't mean it's the truth about your situation.  At drug rehab, you can learn how to move through these difficult emotions and go on in spite of them.