Mackenzie Phillips Discusses Drug Addiction, Incest and Victimhood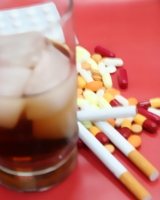 Mackenzie Phillips has been in and out of the headlines for decades – first, as the daughter of "Papa" John Phillips, founder of the band the Mamas and the Papas, then as an actress, later for her drug addiction and lastly, for her adult affair with her biological father. Her memoir, High on Arrival, came out last year and the public was shocked that she described her sexual relationship with her father as consensual. She has since released the book in paperback and updated her characterization of the relationship, now saying that she was a victim of incest and that her father was a predator.
The confessions, the drug addiction, a serious relapse– all this has been a part of Phillips' long road to where she is today, and today, Phillips is full of hope and looking forward to a brighter future without drugs.
Mackenzie Phillips and Drug Addiction
The actress's drug addiction got her fired from the popular TV sitcom One Day at a Time not once but twice. In her book, Phillips writes about staying sober for 10 years – only to lose it when she was given prescription painkillers. She soon developed a painkiller addiction and then built up to a heroin addiction that had her shooting the drug every 20 minutes. This drug abuse stint ended when she was arrested at the Los Angeles International Airport on her way to film a One Day at a Time reunion on the Rachael Ray Show. At that time, Mackenzie says that she got clean and has stayed that way ever since.
Family Issues, Confessions and Chyna
Phillips has said that she has no contact with any of her siblings, including Chynna Phillips, formerly of the band Wilson Phillips. Though Chynna supported Phillips when the book first hit the shelves, Phillips says that Chynna has since gone into rehab for anxiety and has not spoken to her since. Phillips says that Chynna has made comments that imply Phillips wrote the book for money and that the two have agreed to take a break; both comments, says Phillips, are untrue. While she seems to regret the effect of her drug addiction and confessions on her family, Phillips says that without the drama, she and her son, Shane, 24, are better off.
Honesty in Recovery
Phillips says that she feels no regret about writing or publishing the book. Phillips told ParentDish: "I'm very sorry it's caused this rift in my family, but I feel beholden to a much bigger community of survivors and addicts who have been given a voice where they felt they had none as a result of someone finally coming forward and saying, 'Look, here's what happened.'"
She has little concern about a future relapse because, now that she has been honest about everything in her life, she feels more free than she ever has.
If you have been a victim of incest, do not hesitate to get therapeutic treatment. Drug addiction often stems from trauma and if you are struggling with an addiction to alcohol or drugs, drug rehab is your best option. Contact us today to identify the right type of drug rehab for your needs.