Drug and Alcohol Addiction Goes Beyond the Chemicals
Have you ever known a woman who really partied a lot?  She always seemed to be getting ready to go drink, recovering from drinking, or even getting into some harder drugs.  She is a favorite at parties, but things often end up going bad somehow.  It seems to be way beyond having fun with friends.  She complains that she drank or used too much of whatever drug the day before, but she never cuts back or quits.  Looks like it gets in the way of her life, so why doesn't she stop?
Drug Addicts Don't Know How To Live Without It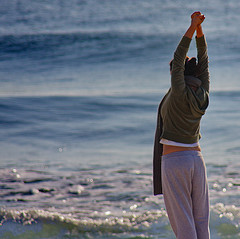 A person with an drug addiction has a physical dependence.  But what often causes problems is psychological dependence.  It is is habit, a comfort, something they feel they need to have every day.  If you've ever tried to take a comfort blanket away from a small child, you understand the protective reaction an addict has about having their drug.  Powerful emotions can create a strong bond between a person and what they believe they can't live without.
Drinking or drugging also becomes part of an addicted person's identity – it's part of "who they are" to themselves and others.  If they didn't drink or do drugs, what would they do with a lot of their time?  How would they behave with their friends?  What would hold them together if they were all sober?  The answers to these questions might show how shallow an addict's relationships really are, and how thin their own identity and self-understanding really is.  It's too scary to go there, so the addiction continues.
Drugs And Alcohol Fill Huge Emptiness Inside
In every drug addict or alcoholic there is a vast emptiness.  They were not given love and understanding as a child, they've been hurt way too much, lost too much, experienced untreated mental illness, given their soul away for material reward, or some other type of pervasive emotional damage.  It's so deep, this person doesn't dare reach down into the cracks to find it all.  This pain has carved out a personal spiritual canyon inside that is ever apparent, ever hurting.
Just the awareness of this emptiness is difficult enough to start searching for ways to push it aside.  If just touching it is bad, they feel they really need to protect themselves from it in any way possible.  There's no way going into the pain could be a good thing, so it must be filled in or covered up.  Behave as if it is not there at all and maybe it will really be gone.  Drugs and alcohol quickly alter a person's physical sensations and emotions.  This matches the person's desperate need for an instant fix.  Unfortunately, they have also most likely ditched or hardly learned many healthy coping skills to deal with their difficulties.  The drug addiction becomes their primary coping tool, driving their life down into the ground with each passing day until they get help.
Addiction Is Bigger Than Any One Person
Bottom line – drug and alcohol addiction is generally beyond the ability of any one person to manage  successfully.   Yes, there are always a handful of exceptions to any situation.  But in nearly every case, a person with an addiction will need the help of professionals and a supportive social network throughout their life.  Drug rehabis sometimes the key to turning someone's life around.  It's always about much more than just the chemicals going into the body.  Addiction recovery is about reconstructing a person's life sober.