Are Smartphones the New American Addiction?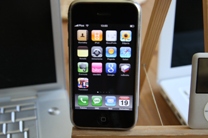 Over the past decade, the smartphone has emerged with capabilities never thought possible just a few years ago from apps for entertainment, work, helpful tools such as locating your keys and the ability to surf the net at our fingertips. Our phones have become so integrated into our lives that some people actually panic at the thought of losing theirs. Are we addicted to our smartphones?
David Greenfield, PhD, in his book Virtual Addiction: Help for Netheads, Cyber Freaks, and Those Who Love Them explains the potential for addiction to smartphones is a real possibility. He believes the technology is psychoactive because it has the capability to change an individual's mood and make them feel good. From a behavioral perspective, email alone can keep people coming back for more due to its "variable reinforcement schedule." This is the type of reinforcement that keeps a behavior the strongest because you never know when a feel good e-mail may arrive so you keep checking it. Greenfield states, "It's like slot machines. We're seeking that pleasurable hit." Of course, smartphones don't just allow access to email, they provide an instant connection to Twitter, Facebook, YouTube and news sources all at the click of a button.
New Study Shows Smartphones Affect Our Emotions
The mobile security company, Lookout, funded research to find out exactly how intertwined smartphones have become in the lives of Americans. They found the following results:
Almost two-thirds said they check their smartphones at least once an hour each day
Within an hour of waking each morning 70% have already used their smartphone
Just over half check their smartphone while in bed, before they go to sleep or when they wake in the middle of the night.
Practically 33 percent look at their phones while eating a meal with others
Roughly 24 percent admit to checking their smartphone while driving
Just about 10 percent say they check their phones during church
Approximately 75 percent of participants reported feeling "panicked" when they could not find their phones
Smartphone Addiction Compared to Other Known Addictions
It is generally agreed an addiction has a certain set of criteria such as:
A growing tolerance that causes the user to increase use to get the same effect
Uncomfortable emotional or physical symptoms during withdrawal
Engaging in a behavior despite the potential consequences
It seems from the study that many smartphone users may exhibit some or all of the above behaviors. They are using the technology more now than in the past, nearly three-quarters of users are "panicked" when in "withdrawal" from their phone and at least one-quarter are checking their phones while driving despite the danger of harming or killing themselves or someone else.
Do you think smartphone addiction is real or just an exaggeration in reference to our overly digitalized culture? Tell us your opinion below.