Are Absentee Fathers Partially to Blame for Drug Addiction Among Young People?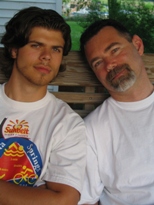 Though no one factor can be pinpointed as "the" reason for the development of drug and alcohol abuse or addiction among teens, one new study called the Dad and Me report, says that there is a high rate of absentee fathers among those struggling with drug addiction.
Among the statistics pulled from the study:
Young people with absentee dads are about 80 percent more likely to be anti-social in their behavioral choices (i.e., living outside the law and societal norms in terms of crime and drug abuse and addiction)
More than 76 percent of fatherless youth are more likely to commit crimes
More than 69 percent of young people with absent fathers are likely to abuse drugs
Why is this the case? Some sources postulate that the connection between absentee dads and high rates of drug abuse and crime among their children is a lack of self-esteem due to feelings of abandonment. Some of the interviewed kids said that they turned to drugs to numb the feelings of pain associated with losing their fathers and did crimes to impress gang members who gave them the support and encouragement that they missed from their fathers.
According to the report: "Young people are struggling to find a sense of purpose within their families, schools, and community, and believe that peers provide them with what they need."
Interestingly, the kids who turned to drug abuse and addiction to deal with issues related to growing up without a father were the same ones who reported an interest in being better parents themselves. Unfortunately, in many cases, the reason that many fathers are not active in their children's lives is due to a drug addiction of their own. Kids who turn to drug abuse and addiction often end up unwittingly perpetuating the cycle of addiction in their own families, especially when they end up with unexpected pregnancies at a young age and are unable to be positive parents due to their issues of drug and alcohol dependence.
Another issue that drives rates of addiction among kids with absent fathers is anger. Says the report: "This type of anger goes unnoticed, unchecked and is not detectable. It triggered or released the outcome is detrimental to friends and family who have to pick up the pieces after the bomb has exploded."
How do we break the cycle? By helping young parents who are struggling with drug and alcohol addiction to get the help they need to get back on track and prioritize their children's health and wellness over
addiction. It's a long process, but one that starts with a phone call. Contact us at The Orchid if you would like to learn more about how we can help women who are mothers to fight drug addiction.