Postpartum Depression and Alcohol Rehab
As a new mom, your world has changed a lot.  You sleep less, pay less attention to yourself, take care of a little one who can't tell you what's wrong when they cry, your husband or partner might not be available like he used to be, and you stay home a lot more.  You have looked forward to being a mother, but somehow things feel like they are really getting out of control.  You feel a darkness overcoming you that you can't easily explain.  Postpartum depression has moved in and clouded over your motherhood experience.
Postpartum Depression Creeps In And Causes Emotional Pain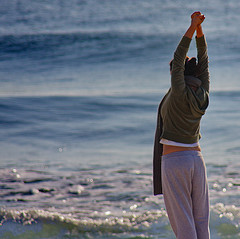 That was me several years ago.  I did not turn to alcohol, but I know it happens.  The pain and confusion of postpartum depression is so disorienting.  You are supposed to be happy, but sometimes you feel really awful.  You are supposed to take care of yourself, but also meet a lot of new demands.  Work beckons, family wants to visit, you're eventually supposed to "get over" those first few months of adjusting.
For me, I just tried to make it look like nothing was happening.  I just tried to endure the best I could.  I just kept doing whatever I could to make it better.  There were some good times, but the bad times always returned.  Eventually I stumbled upon the pattern of my mood swings and worst down times and rushed to the doctor.  But really, I know the kind of pain that could drive a woman to drink.
Depression Desperation and Alcohol Rehab
If I had been told that what I was feeling was something I needed to "get over" or wasn't as bad as I thought, who knows what I would have done?  Enough years of desperation can make a healthy woman into someone who goes for desperate relief like alcohol or drugs.  Alcohol rehab can be in woman's future if she has endured postpartum depression and turned to drinking to cover the pain.
Alcoholism in women is very often begun through an emotional pathway.  Postpartum depression is most definitely one of those pathways.  There seems to be an extra stigma against mothers with depression, like they are supposed to be happy and glowing in their postpartum time.  Anything resembling sadness will just "go away on its own".  Well, when it doesn't, despair can set in.  That's often when a woman turns to alcohol.  At that point, alcohol rehab of some kind must be involved to treat her properly.
Alcohol Rehab Can Help With Postpartum Depression Too
This isn't really a fix-it-yourself type of situation once you have a mental illness and an addiction.  Alcohol rehab for women can treat postpartum depression along with an alcohol addiction.  The approach used to involve achieving sobriety before treating the mental illness.  Now, research indicates a better recovery when both are treated simultaneously.  Women's alcohol rehab professionals know this and are ready to help.
Postpartum depression doesn't have to tear your life or your family apart for good.  If you have turned to alcohol for emotional relief, alcohol rehab for women can help you get back on your feet.  You can enjoy your family without the pain of depression or addiction.