Katie Holmes Sues Magazine for Alleging Drug Addiction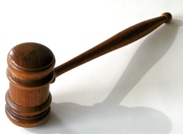 Another actress in the news for supposedly suffering from drug and alcohol addiction is not taking the spreading of rumors lying down: Katie Holmes has filed a lawsuit against the publishers of Star Magazine, accusing them of libelous content. Specifically, the cover of their magazine in January, 2011, implied that Holmes had drug addiction issues, and though the article revealed that that claim was not true, Holmes says that those who read the cover and not the article would have no way of knowing that. The harm to her career and her reputation as a result may be worth millions of dollars in damages. If Holmes wins her suit, she could be walking away with more than $50 million in damages.
The headline for the Star Magazine cover read: Katie DRUG SHOCKER! And the publishers of the magazine knew that the headline was untrue, because accompanying article did nothing to support the claim. In fact, the focus of the story was a claim that Holmes was "trapped in a cycle of addictive treatments" and considering leaving husband Tom Cruise – both of these claims, says Holmes, are completely false. Holmes released a statement saying that the publishers knew that the claims were untrue yet "printed it anyway to sell magazines."
An attorney for Holmes said that the drug claims were not only malicious, but unethical and unlawful. He went on to say in a statement that: "Not only do they cruelly defame Katie, they play a cheap trick on the public, making ridiculously false claims on the cover unsupported by anything inside."
The focus of the story is Holmes' alleged use of an e-meter, a device used by practitioners of Scientology to ferret out mental issues.
Star Magazine issued a statement in response to the lawsuit saying: "Star fully stands behind the editorial integrity of what we have published concerning Ms. Holmes' controversial use of the Scientology 'e-meter. Our attorneys look forward to deposing Ms. Holmes about her experiences with Scientology and the e-meter, and expect that the case will be promptly dismissed by the court."
The Damaging Effects of Drug Addiction Rumors on a Career
If the allegations were true, Holmes wouldn't have a case but her career and image would be just as damaged by the story. Many who try to return to their old lives after drug rehab find that their behaviors under the influence of drugs and alcohol during active addiction continue to haunt them despite their treatment. It's a tough struggle after recovery: not only are you fighting off relapse, but you are fighting to build a life for yourself that is founded on positivity and good choices. Rumors can be devastating, especially if you are established in your career and want to return to work. The best that you can do is remain patient, understand that time will show your dedication to your recovery, and put your best foot forward at every opportunity, taking any advancement that comes your way.