Depression and Alcohol Give You More of the Same
A woman with an alcohol addiction usually thinks only a short time ahead from the present moment.  Addiction keeps you focused on what you want now and how you are going to get it.  It's often said that
living in the "here and now" is a great thing, but not at the expense of common sense and responsibility.
Alcoholism With Depression Is A Tough Trap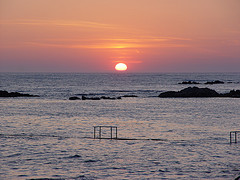 When an alcoholic woman says that she knows she needs to quit or will cut back tomorrow, she really has no idea how that is going to happen.  The concept of time is warped for an alcoholic.  In some way it may seem that just thinking about sobriety is a good enough start.  But in reality, it will allow the addictive patterns to continue on and on.
No matter how good or genuine the intent may be, an alcoholic woman with depression has a strike against her.  When she stops drinking, she loses her coping method for her depression.  Without something healthy in its place, the drinking behaviors will return.  The pain will be too much to bear without something to manage it.
So there she is, stuck in a loop of drinking, feeling depressed, drinking to make the depression not feel so bad, feeling more depressed after drinking, etc, etc.  It just goes on and on unless something horrible happens or the woman goes into alcohol treatment.
Depression and Alcoholism Know How To Hang On
Depression and alcoholism have at least one key thing in common.  Many of their symptoms are self-preserving, they serve to keep themselves living on inside you.   When you feel bad, you have negative thoughts that shame you and beat you up more.  That can keep you from seeking help, which allows the depression to hang on.
Same thing goes for alcoholism, especially when paired with depression.  Alcohol treatment for women is now treating mental illness at the same time as the alcohol addiction.  Just a decade ago, the norm was
getting the woman sober and then treating her mental illness.  With both treatments occurring at the same time, a woman doesn't have to wait to feel improvement in many of her symptoms.
Alcohol Rehab For Women
Alcohol rehab for women also provides a unique atmosphere to meet the emotional needs of women.  These alcohol rehab facilities emphasize community among women and soothing surroundings.  Female connections are so important when recovering from depression and from any sort of addiction.  A holistic treatment approach helps a woman connect her mind, body, and soul.  Any woman needing help with alcoholism and depression needs to consider going to alcohol treatment today.