New App Developed to Stop People from Driving on Marijuana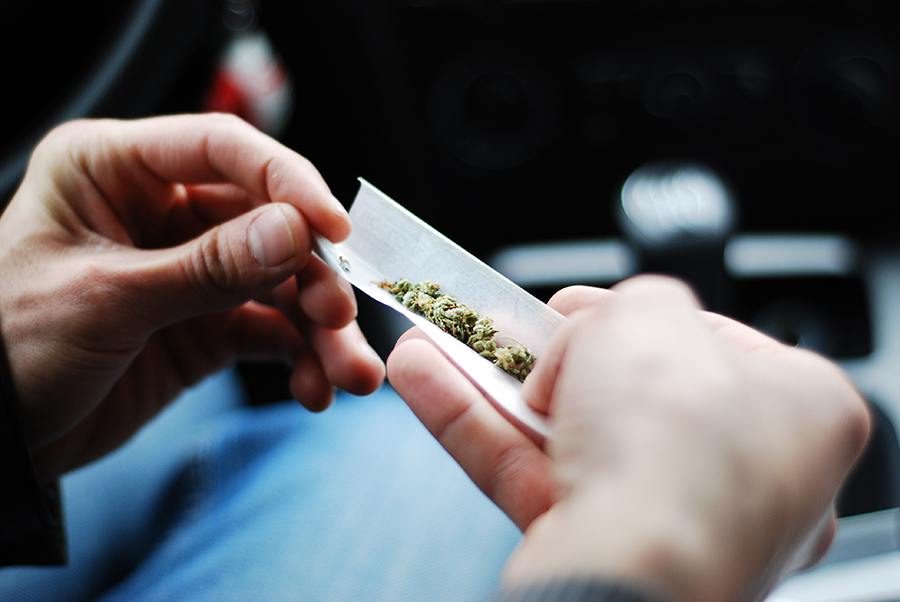 Marijuana reform is on the rise, and if you haven't noticed than let us be the firm to let you know drugged driving is quickly becoming a popular concern, especially in the states that have already approved legislation for legalization. With the topic there comes a tirade of debate as people argue whether drugged driving is 'safe' or not compared to drunk driving, and what the law should require and restrict when it comes to operating a vehicle under the influence of marijuana.
As more and more states legalize recreational and medical marijuana, policymakers are faced with this challenge, and then there is the question of how to even measure the extent of someone being stoned while driving. While technology to test alcohol on a driver's blood or breath has been in place for years, field sobriety tests for marijuana are still in the early stages of development, but there are some inventions lending some assistance.
An Uphill Battle
Regardless of the debate over whether people think it makes sense, it is still illegal in all 50 states to drive while impaired by any controlled substance, including marijuana! But, because the presence of the drug in driver's system is so difficult to measure it is a subject still difficult to solidify with facts. Testing urine and hair strands has proved unreliable, and obtaining a blood test from every driver pulled over who is suspected of being under the influence of marijuana is far too unrealistic.
Then there are companies like Lifeloc that are currently in a race to develop the first marijuana breathalyzer, but there has been a fair share of obstacles keeping that finish-line a little farther. Lifeloc CEO Barry Knott has stated,
"The primary compound in marijuana that causes impairment is delta-9 (tetrahydrocannabinol or THC).The good news is, just like alcohol, delta-9 is expelled in your breath if you have it in your system. But delta-9 is exhaled in the breath in much smaller quantities than alcohol vapor, so it's much more difficult to collect and detect."
Knott has also said developing and refining these technologies to be as effective and accurate as possible could take up to a decade. That finish line is still a ways away.
Canary App
There are a number of apps that have been developed recently with the intention of serving as a way to drug test and prevent drivers from driving when they have had too much cannabis to get behind the wheel. Next on the scene is the Canary app.
While it appears marijuana breathalyzers won't be on every street anytime too soon, smartphone apps like Canary could be the most effective tool for regulating stoned driving. Unlike breathalyzers or blood tests, the app doesn't focus on physical markers of impairment, but instead hones in on an individual's actual performance of functions necessary when on the roads.
This new piece of portable programming was developed by Marc Silverman, and so far has been endorsed by the nation-wide marijuana advocacy group NORML. It has been described as a very user-friendly service, and it has four basic tests it uses to collect and analyze data on the driver to determine whether they should sit anywhere but the drivers seat.
The memory challenge is designed to have the driver try and recall six numbers that appear on the screen
The reaction game included in the app requires the user to quickly identify an icon from a series of images
Then there is a time-perception assessment where users are required to count off 20 seconds in their head and match with a timer
Finally the balance test uses the smartphones accelerometer to measure a user's ability to stand on one foot
The idea behind this app is to give drivers a way of seeing how the very functions they rely on while driving are impacted to the point where it endangers them and others to drive.
Deputy director of NORML Paul Armentano said,
"This tool ideally allows cannabis consumers to take control and identify when they present a traffic-safety risk or when they may be under the influence. I believe this is information that all responsible marijuana users will want to know."
Since the initial launch of this app a few weeks ago it has already became a popular purchase, being downloaded more than 10,000 times. While Silverman is excited about the response, he says he sees the app as more of a self-regulatory tool, but wouldn't feel comfortable allowing for law enforcement to use it as their primary strategy for assessing drivers for DUI laws.
Technology is constantly doing what it can to innovate and inspire the way we approach a lot of tasks or obstacles in our lives, and with marijuana becoming legally accepted in so many states there are developers who want us to still remain aware of the dangers the drug presents, and to help technology protect us and each other from those threats.
Drugged driving is not the only threat presented by marijuana use. Drug abuse can lead to a hazardous addiction and no matter how legal or 'safe' a drug is considered it is still a danger to an addict. If you or someone you love is struggling with substance abuse or addiction, please call toll-free 1-800-777-9588