Happy Valentine's Day! It's Over: Dumping Codependence in Recovery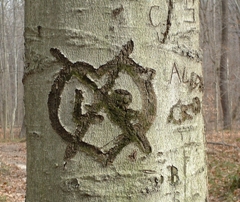 Ah, the day of candy hearts, cuddly bears and romantic fires – uh, romantic cuddling by the fire, that is. Valentine's Day is the occasion to shower your sweetie in chocolate and flowers but many in recovery find themselves in a codependent relationship they're better off losing than trying to maintain with sugar carbs.
NOTE: In cases where the codependent relationship has taken a violent turn, run don't walk to the nearest door and don't look back. There is no working on relationships where physical violence takes place.
Why Codependent Relationships Are Common in Recovery
Many are unsure of themselves after drug and alcohol rehab. They are trying to build a whole new life and identity that doesn't include the comfort and familiarity of drug abuse and addiction, and that can feel lonely at first. Though 12-step meetings and drug rehab can provide you with peer support and friends, there are few deep connections early on. Craving physical contact and the validation that comes from one other person singling you out to spend time with romantically, many jump into relationships. These relationships are rarely built on any real connections so the codependence usually begins immediately.
For the same reasons, those who come home to a codependent relationship after drug rehab – a relationship that started during their active addiction – codependence is just maintaining the status quo. After months or years of broken trust and verbal abuse, you may feel like you have a lot to make up for and your partner may not want you doing things on your own for fear that you will relapse. It's tough to reinvent yourself with the weight of another person's expectations on you, especially when it's tied up with guilt and self-doubt.
What is a Codependent Relationship?
Codependent relationships often begin in a family or partnership where there is a lot of stress or dysfunction. The pair will develop ways of dealing with each others' insecurities in ways that are unhealthy and stifling to both people. It is common for one half of the partnership to be emotionally unavailable, needy or unreliable and the other half to cater to the issues that result.
The signs will be different for every relationship. In recovery, you may find that your partner is trying to control your every move – who you talk to, on which topics, under what circumstances and for how long – because they are scared that you will cheat on them or relapse. On the other hand, you may be the controlling one after drug addiction treatment. Your feelings that you are not good enough due to your issues with drug addiction may lead you to suspicions that your partner is cheating without any evidence – with codependent results. Caretaking behaviors, an overriding sense of distrust, a lack of desire to do things with others that don't include your partner, and an inability to explore your own separate interests.
Have you ever been in a codependent relationship? How did you get out of it? Did you try to fix it? Did you attend Al-Anon meetings or other 12-step codependency support groups? Leave us a comment and let us know!