Bobby Brown Breaks His Silence About Whitney Houston's Death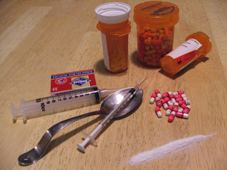 Whitney Houston's ex-husband, Bobby Brown, has remained silent publicly about his thoughts and feelings surrounding the passing of the superstar – until now. Many people blame Brown for the drug addiction that plagued the pop star and ultimately led to Houston's untimely death. He was seen as the "bad boy" who came in and corrupted the innocent pop princess who got her start singing in church choirs. Brown has never commented through his reps or otherwise on these opinions but agreed to sit down with Matt Lauer on the Today Show and discuss his relationship with Houston on camera.
Brown Denies Getting Houston Started with Drugs
In the interview, Brown not only denies introducing Houston to drugs but initially claims he had never been high before he met Houston. He later backpedaled by saying, "No, I, I, I smoked weed, I drank the beer, but no, I wasn't the one that got Whitney on drugs at all."
Brown asserts that Houston was doing drugs long before he came on the scene. He also seems shocked that people would assume that he is the one that got her hooked: "…It's just unexplainable how one could, you know, [say that I] got her addicted to drugs. I'm not the reason she's gone."
Brown did express a deep love for Houston. Although the couple had not been together the last five years, Brown told Lauer, "I love that woman with, with everything that I am."
He also stated that he believed she had the same feelings for him. An awkward moment perhaps for his fiancée, Alicia, who came to the interview to support Brown and tell the public his bad guy image was unfounded.
Brown Claims He Hasn't Done Drugs for Seven Years, Despite DUI in March
Lauer asked about Brown's feelings about Houston's toxicology reports that found cocaine in her system. Brown said, "I was hurt…" because he has been off drugs for seven years and was unaware she was still struggling with addiction. He said he had dinner with her and their daughter, Bobbi Kristina, two weeks before Houston's death and that she was glowing. He believes she fell off the wagon the night she died.
As for Brown, he may not be doing illicit narcotics any longer but that doesn't mean he is sober. Just four days after Houston's autopsy results were released to the public, Brown was arrested after failing a sobriety test. He plead no contest to drinking and driving in court in order to avoid possible jail time.
What are your thoughts about Brown's interview? Do you think he had anything to do with Houston's addiction or death? Share your thoughts with us below.