Predicting the Power of Personalize Medicine in Recovery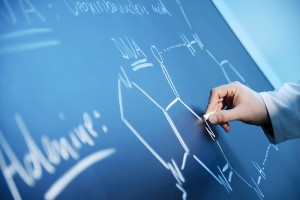 For people with addiction, there are already so few effective drugs available to help in the recovery process, so this demographic takes the hit from failed medications especially hard. People with addiction tend to have even less of an effective experience with medication on a smaller average than most people, so how much good is Big Pharma really doing in the field of treating addiction?
With all the medications making big money out there, it's actually a bit troubling that the majority of them have a poor success rate across the board. In the world of Big Pharma, it's a pretty well-known fact that some 90% of all medicines only work adequately in about 30% to 50% of patients. This is not a presumption, it actually came straight from the horse's mouth at one point when Allen Roses, worldwide vice-president of genetics at GlaxoSmithKline (GSK), admitted that fewer than half of the patients prescribed some of the most expensive drugs in the world ever received any actual benefit from them.
Given the status of this success rate, the result is a staggering waste in the quality of care for individuals, not to mention the wasted cost on the healthcare system. So how is it that the future of medicine can offer any hope?
Personalized Medicine
Pharmacogenetics is the science of how genes and the mutations of genes influence how well a medication works in an individual, and Dr. Thomas Kosten of Baylor College of Medicine is a leading addiction researcher who focuses on pharmacogenetics. This is one part of a large cutting-edge trend in healthcare called personalized medicine.
Personalized medicine is often designated as the idea of providing the right drug to the right patient at the right time. That idea is that the best, most effective and most cost-effective care will come from personalizing it for each individual patient, based not on symptoms, but genetics.
By studying factors such as a person's genetic makeup that distinguishes the people who get benefit from a treatment from those who do not, the hope is that researchers will be able to help doctors develop a treatment plan with far greater specificity and therefore accuracy than is currently possible.
Testing Genetics
Unfortunately, for this kind of research to have relevance in the clinic, gene testing has to be widely available to patients, and presently this just is not possible. There are currently about 2,000 tests to identify mutations that either cause, or are linked to, specific inherited diseases, but these tests come with a big price tag.
Certain genetic testing can range from several hundred to several thousand dollars, and for the average addict that can seem like a waste of drug money. A lot of these genetic tests are routine tests, but the results can be confusing to doctors who have limited knowledge of genetics.
Still, most experts agree that pharmacogenetics and gene testing when combined are the wave of the medical future, and that does give some hope to those suffering from more severe medical conditions or diseases like addiction. Personalized medicine is still finding its feet, unfortunately. Yet some experts do expect to have some sort of tangible use within the next 5 to 10 years, making it more accessible and affordable.
As the cost of whole-genome sequencing goes down, paying for genotype tests that identify only a single or a handful of relevant mutations will become obsolete. Experts have predicted what seems like a strange fantasy that in the not too distant future, people will be able to go to the doctor and have their entire genome sequenced, and then it could be kept on a card, or even more scifi- on a microchip under the skin for easy access by doctors looking to see which mutations and medications might interact, and which would be most effective in treating specific ailments.
So when thinking about ways to apply this to addiction treatment, it would definitely be helpful to have the genetic map of an individual and be able to decipher what kinds or medications they could benefit from in correlation with their detox or behavioral therapy. More could be done to address the physical and emotional symptoms on a holistic level, giving the recovering addict or alcoholic an incredible opportunity to experience that transition from a peak physical state, and treatment would be able to evolve with the person.
Genetics play a role in who we are, and some scientists believe they are one of the most important pieces in how we heal and what we become from that process. In sobriety we are given the opportunity to live to the fullest extent of our potential, and some say in the future recovery will only become more understood on a genetic level. If you or someone you love is struggling with substance abuse or addiction, please call toll-free 1-800-777-9588