Child Care A Barrier For Women Needing Drug Rehab
No matter how liberated women may be in our culture, women still spend more direct time caring for children than men do.   Moms needing drug rehab are no different.  Understandably, anything that gets in the way of child care and supervision causes worry and stress for moms.
Moms Needing Drug Rehab Worry About Child Care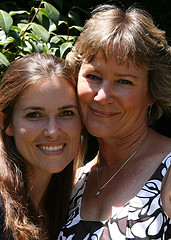 Dropping everything to go to drug rehab can sound too threatening to a mom's social and family connections.  What will her boyfriend or husband think of her?  How will her friends treat her?  And most importantly, what will happen to her children if she is gone for a long period of time doing drug rehab?
Even if a woman can truly see the benefit of going to drug rehab, she may really hesitate and resist because of her fears.  She may fear that even with the promises that she will be back in the family after drug rehab, someone will take her children away.  Something that should be good (drug rehab) will end up looking bad, like she abandoned her family.  She may also be afraid that even if she does go through drug treatment, she may still fail as a mother.
Women With Addiction May Resist Drug Rehab Because of Kids
Women with addiction often have very low levels of self worth, confidence, and trust.  They have often gone through some form of strong emotional pain, possibly from depression, abuse, or relationship chaos.  Drug rehab can really help with all of these issues.  But just getting that woman to the drug rehab door can be a challenge.  And even when she gets there, it may take a while before she truly surrenders to the recovery process.
Any drug rehab that works with women needs to devote time for discussing these family issues.  They aren't going to be able to guarantee child care while a woman is there, but they can certainly help her express and deal with her emotions in a caring environment.
Support A Mom Going Through Drug Rehab
The drug rehab counselors can help the woman prepare herself for her return to the family environment.  That can be a nerve wracking thought for the woman as well.  Will she be able to do everything she is supposed to?  What if she has cravings while she is taking care of her kids?  What if she totally "loses it" in front of her kids or family members?  Could her kids be taken away even after she's gotten sober?  Again, a woman with addiction often has lots of fears about her children and family.
If you are helping a mom with drug addiction, one of the most helpful things you can do is to support her quest for good child care while she does drug treatment.  You might take her kids for a few days, help out a primary care person by taking the kids to the park for a couple hours, help the kids write letters or make pictures to welcome mom at home, be there to listen to her kids' fears, and be ready to be supportive when she comes home.  If you can help alleviate her fears about her children, she will be more likely to begin drug rehab.