Girl Friends in Drug Addiction Recovery: Cat Fights, Tears and Hugs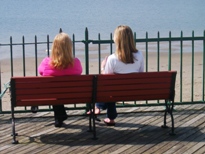 Women need the friendship of other women to sustain them through the bad times and help them celebrate the good times. Friendships are said to increase longevity, happiness, and quality of life – and isn't recovery devoted to all those things? But what do you do when your girl friends do nothing but cause you pain and drama? How do you find positive friendships in recovery that will support you as work toward a balanced life without drugs and alcohol?
The Problem with Girl Friends in Recovery
If you haven't been there, you know someone who has: girls who are "frenemies," always talking about each other behind each other's backs until something gets back to someone else and suddenly the fur is flying. Women who are in recovery have the same problem: sleeping with each other's partners, back stabbing each other at work, or just plain being mean out of feelings of insecurity or jealousy. Just because you meet someone in recovery who purports to have the same goals of finding a healthy balance in their lives without drugs and alcohol, it doesn't mean that they are going to be a good friend for the long haul.
Other issues arise with women who you befriended before or during your addiction. If your friend is still using, it can be a problem for you, even if she just drinks recreationally. You are trying to build a new life that doesn't include going out to bars and clubs, and if your friend is still spending her time this way, it can mean problems for your friendship with her.
The Benefit of Girl Friends in Recovery
Sometimes, though, you have girl friends who have known you your entire life. They loved you before you developed an addiction, they hung out with you during your addiction – they may even have been at your intervention. And now that you're out of alcohol and drug rehab, they are still there to support you. There's nothing like it.
Then there are the women that you meet during drug and alcohol addiction treatment. These women have been through what you're going through, and they want to give support as much as they need you as a positive influence in their lives. Some of the women you meet in drug rehab will provide friendships that will last you the rest of your life.
Seeking Out Positive Friendships in Recovery
If you don't have friends that you wish to keep up with from before your time in addiction treatment or if the women you met during drug rehab have all relapsed, then you can seek out positive friendships in recovery. Group therapy, support groups and 12-step meetings are all great places to meet likeminded women who will support your sobriety, but you can also meet new people in the community as well: at church, taking classes at the community college, at work. Take a moment to make a friendly comment to your neighbor or co-worker. Sometimes all it takes is a few words to start a friendship that lasts a lifetime.