Jamar Rogers Inspires Crystal Meth Addiction Recovery on 'The Voice'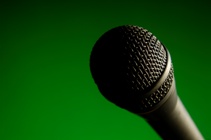 A 29-year-old singer overcame more than just competition to get the attention of judges on the reality singing competition show on NBC, The Voice. Jamar Rogers worked through homelessness, crystal meth addiction, and HIV before he ended up on the stage singing for Cee Lo Green, Christina Aguilera, and Adam Levine.
Said Rogers: "I really do believe I'm the comeback kid."
Only one of the mentors turned around during his performance but it was the one that Rogers was hoping would take notice of his singing ability: Cee Lo Green.
Said Green to Rogers: "You got style, you got charisma, and you definitely got the voice."
Getting the audition was a huge moment for Rogers. Both he and his mother were highly emotional, knowing all that he had gone through in his life to end up singing for America. Both broke down in tears. Said his mother: "I am at a loss for words, because this is something we dreamed of since he was six."
Rogers' story is a reminder to all those who are actively abusing crystal meth and other drugs that recovery is possible. Not only is it possible to live a life without drugs and alcohol, it's possible to do so successfully. Following your dreams starts with letting go of everything that is holding you back and addiction is the biggest obstacle to achieving anything in your life.
If you are ready to make real changes in your life and start moving forward toward your dreams without the shackles of drug addiction, you can:
Lower your drug use. The less of your substance of choice that you use, the easier it will be to quit and the better you will feel. Limit your intake as much as possible.
Make a plan. What do you want for your life? What will it take to get there? Write out a plan for yourself, starting with getting clean and sober.
Find a treatment program that's right for you. You will need a treatment program that will be able to provide you with detox and ongoing therapy services.
Enroll in treatment. Call and make an appointment at your rehab of choice and get the ball rolling.
Follow up with aftercare services. After you graduate, continue to attend 12-step meetings and therapy to maintain your sobriety.
Carry out the next step in your plan. If you have to enroll in a school program, go for it. If you need to move to be near an epicenter in your industry, do it. Make plans and make it happen.
If you would like to learn more about the treatment services we offer here at The Orchid, contact us today to find out how to get started.