Aging Women and Drug Addiction
There's a somewhat hidden population of drug and alcohol addicts.  They hide from the public, from doctors, and maybe even themselves.   Older women have a much greater risk for developing addiction and a greater need for drug treatment services than most people would suspect.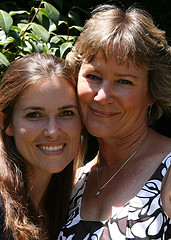 Aging Women Have Trouble Talking About Addiction
Aging women don't tell their doctors about symptoms of addiction, doctors admit they have a hard time seeing the problem themselves.  Instead, they excuse they symptoms as other more normal sounding issues such as side affects of another drug they are taking or just "getting old".  Just like with younger people, there is much shame tangled up in admitting an addiction to drugs.  It can be so tough to both realize and accept that what was once helpful is now an unstoppable drug addiction. 
Not only do doctors have a hard time helping an older woman identify and manage an addiction, they may see her more often for other problems.  Older women are more vulnerable to the main effects of prescription drugs – a sedated feeling and the inability to think clearly.  This can translate into falls, taking the wrong dose of medications, unsafe driving, injury around the house, depression, suicide, and many other issues.
Elderly Women With Addiction Often Don't Get Treatment
The public perception about elderly people seems to imply that they are usually beyond reach for drug treatment, that they have very little useful time alive left, and that drug treatment would be a waste of time and resources.  Some family members are willing to excuse excess drug or alcohol use as something the older woman "needs".  It's easier to just let her do what makes her feel better, and family members take pity or fear pushing for drug treament. 
According to one addiction expert, an astounding half of all alcohol addiction in women starts at age 60.  This is twice the reported rate for men of the same age.  Some aspects of aging may play into the vulnerability at this age for women.  Women often outlive men, so many women may have become widows by this time.  Adult children may live far away or be busy in their own lives, unable to visit much.  The affects of physical aging are undeniable at this stage.  Also, many women age 60 or older have also finished careers and may not have become engaged in other interests.
Most Common Addictive Substance For Older Women Not Alcohol
Although alcohol problems can certainly start after age 60, the worst addiction problem for older women is not alcohol but prescription medications.  Opiate pain killers were reported to be overused or misused for one out of every ten women over the age of 50.  Part of the problem is that women are more likely to be prescribed prescription pain medication or opiate-based. 
You can also imagine that some women who misuse prescription drugs may also misuse alcohol.  No matter what your age, this can be a problematic if not deadly combination.  Both types of drugs are sedatives that depress the functioning all over the body.   Accidental death or suicide becomes a stronger reality when these two are put together. 
Women of All Ages Need Drug Treatment For Addiction
Despite the public opinion, older women need drug or alcohol treatment just as much as a younger person does.  If it was your mother, your sister, your aunt, your grandma – would that make a difference?  Wouldn't you want them to have the longest fulfilling life possible?  Drug treatment is available, and hopefully anyone who has concerns about an older woman misusing drugs or alcohol will take a second thought and get help.