Why Women Need To Stop Calling Themselves Crazy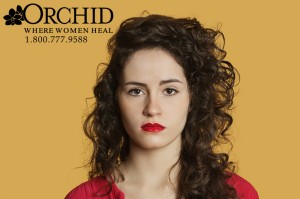 We've all heard it, from men and women alike: "all women are crazy!" I'll admit it, I'm guilty of saying it, too. And, as woman, being called 'crazy' or 'neurotic,' or 'paranoid' ranks right up there with the likes of 'b!tch' and the ultimate sexist slur, the "C" word. Being told we're crazy when we express our emotions or how we're feeling has created such a phobia in women that we often put up with unfair, sexist, and even degrading treatment from bosses, coworkers, friends, family members and lovers.
Let me elaborate. Say your partner is late for dinner and doesn't call to let you know ahead of time. This is inconsiderate behavior. But, when your partner shows up and you express how their actions worried/upset/angered you, and they reply with "You're overreacting" or "Don't be so crazy," this is something more than being inconsiderate. A remark like this is designed to shut you down quickly. This sort of thing is meant to deflect and manipulate; it's a form of emotional manipulation. The sad part is that many people are doing this without intentionally meaning to – it's just that ingrained into our cultural gender roles and expectations.
There's a term for this. It's called gaslighting. Here's some background behind how this term came about. Back in 1944, a movie by the name of Gaslight was released that starred Ingrid Bergman and Charles Boyer. The premise of the movie is this: Ingrid Bergman's character is married to Charles Boyer's character, which has a dark past and a hidden agenda. When the wife begins to uncover his secrets, he takes steps to convince her that she is going crazy. She is "slowly and systematically being driven out of her mind."
This is an intentional, pre-meditated form of gaslighting; what I'm talking about is the unintentional and not always pre-mediated kind of gaslighting. The example from the movie is way more extreme; the gaslighting that occurs today is just as detrimental in that it conditions women into thinking they're emotionally unstable.
"You're so sensitive."
"You're so emotional."
"You're defensive."
"You're overreacting."
"Calm down. Relax. Stop freaking out!"
"You're crazy!"
"I was just joking, don't you have a sense of humor?"
"You're so dramatic. Just get over it already!"
These are all examples of emotional manipulation, aka gaslighting.
So, just why women need to stop calling themselves crazy?
Acts of gaslighting steal our most powerful tool: our voice.
I realize now that, when I joke with people about how I'm "crazy" or how women are all "just crazy," I'm contributing to a problematic and pervading belief: that women are nuts, which immediately discredits anything we think or say. Not only does this practice of emotional manipulation reveal how men and society at large views women, it greatly impacts the way in which we women view ourselves. We're buying into this whole idea that we should just learn to suck it up and not say anything because, God forbid, we look crazy for speaking our mind.
If you or someone you love is struggling with substance abuse or addiction, please call toll-free 1-800-777-9588.