Woman Challenges Wisconsin's "Cocaine Mom" Law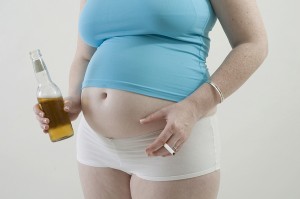 A Wisconsin citizen, Sara Ainsworth plans to challenge the state's so-called "Cocaine Mom" law, a 16-year-old law that allows authorities to detain and force pregnant women into treatment on suspicion of drug and alcohol abuse.
She is filing a lawsuit in the U.S. District Court in Madison and is being supported by the National Advocates for Pregnant Women (NAPW), the Carr Center for Reproductive Justice, and the Perkins Cole law firm in Madison. All parties contend that the "cocaine mom" law is unconstitutional.
"This law allows police, courts and child welfare authorities to seize control of pregnant women who are using or even admit to past use of alcohol or controlled substances," said Sara Ainsworth, director of legal advocacy for NAPW. "This law authorizes a vast array of coercive, punitive actions against pregnant women who are not actually using any substances at all but have simply been honest with their doctors about past drug use."
One victim of the law, Tammy Loertscher is a 30-year-old woman who was jailed in July after she told her physician at Eau Claire's Mayo Clinic Hospital that she had used marijuana and methamphetamine in the past but quit when she thought she was possibly pregnant. Loertscher requested a pregnancy test, as well as help for depression and a thyroid problem.
Instead, she was ordered into inpatient drug treatment "even though she had not been using drugs and had voluntarily sought the medical care," Ainsworth said.
Loertscher was then jailed when she refused the treatment, being found in contempt of the court. She remained at the Taylor County Jail for 17 days, which included time in solitary confinement, for refusing to take a pregnancy test. She was released after she agreed to submit to urinalysis throughout the duration of her pregnancy.
The severe punishment endured by Loertscher doesn't end there. If the accusations of child maltreatment and endangerment are upheld, Loertscher, a certified nursing assistant, will be banned from working in the health care field, says Ainsworth. Furthermore, as a testament to just how harsh and overreaching the "cocaine mom" law is, she could even be prohibited from volunteering at her child's school.
Woman Challenges Wisconsin's "Cocaine Mom" Law
Wisconsin's "fetal protection" law was passed back in 1998 with overwhelming support in the State Assembly and Senate, probably due to the zeitgeist at the time; the law passed in the era of a nationwide scare of so-called "crack babies" and "cocaine moms" – hence the nickname for the draconian law. It allows authorities to detain and even force a pregnant woman into drug treatment if she "habitually lacks self-control" by using drugs or alcohol. It is language like this that clearly reveals the myths surrounding substance abuse and addiction, and its negative stigma.
Between 1973 and 2005, the NAPW claims, at least 15 pregnant women in Wisconsin were detained for allegedly using drugs or alcohol, or refusing medical recommendations, because it was considered that they were endangering their fetuses or newborns.
If you are struggling with substance abuse or addiction and you are pregnant or have children to care for, there are always options for help – no matter how impossible it may seem. Gender-specific drug and alcohol treatment is available and is equipped to addressing the specific needs and issues that women face. The Orchid Recovery Center is an all-women treatment center that can put you on the path to health and happiness. Call toll-free 1-800-951-6135 today.