Supreme Court Judge 'Not Sober' at President's Speech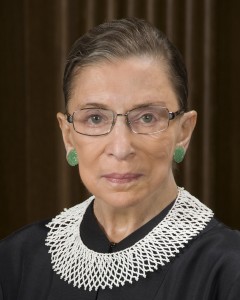 Image: www.commons.wikimedia.org
Supreme Court Justice Ruth Bader Ginsburg was seen dozing off during the Presidential State of the Union address.
Back in January, President Obama delivered his State of the Union address, an annual speech presented by the President of the United States to a joint session of the United States Congress. The address not only reports on the condition of the nation but also allows presidents to outline their legislative agenda, for which they need the cooperation of Congress, and their national priorities.
Ginsburg was caught snoozing during the hour-long speech by President Barack Obama and, despite the sober demeanor of the Supreme Court Justices looking on, Ginsburg said she was anything but. She admitted Thursday that she had a little wine at dinner before the speech, causing the napping incident.
Thursday night, during a speech at George Washington University, Justice Ginsburg was asked about her little snooze. The 81-year-old judge chuckled that she does it often.
"We sit there, stone-faced, sober judges. But we're not. At least I was not 100% sober, because before we went to the State of the Union, we had dinner together," said Ginsburg, who recounted that another Supreme Court justice, Anthony Kennedy, brought a bottle of "very fine California wine." And she simply couldn't resist.
"I vowed this year, just sparkling water, stay away from the wine, but in the end, the dinner was so delicious, it needed wine," Ginsburg said.
Justice Antonin Scalia accompanied Ginsburg Thursday night and laughed at her recounting of the evening.
"Serves you right, I say," joked Scalia.
Ginsburg also revealed that a former colleague used to keep her alert during the president's address.
"David Souter, when he was on the court, he was on one side and he had an acute sense of when I was about to [nod off]," Ginsburg said. "Now I have Justice Kennedy on one side, Justice Breyer, and they're sort of timid about it."
Has your drinking or drugging begun to affect your life in negative ways? Do you experience embarrassing situations or blackouts due to being intoxicated? These are signs that you may have a drinking problem. It's important to address this situation early as it could lead to physical dependence and even full-blown addiction. Please call toll-free 1-800-777-9588 to speak with an Addiction Specialist today.