Recovery Tip: Replace Drinking with Running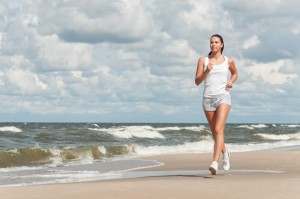 Active alcoholics spend a lot of time drinking. In fact, many alcoholics in recovery report that one of the most difficult parts of early recovery was trying to figure out a way to fill the day without alcohol. Many respond to this challenge by choosing a new, healthy activity to obsess over. For some, the perfect solution is running. Why? Here are just a few reasons why some believe that alcoholics make great runners:
Great determination. Alcoholics can get through rough hangovers and drink even when they feel horrible. Runners, too, often run through sore muscles or when they're not feeling the best.
Persistence. Drinkers drink every day, and the key to running is regularity. Over time, you can increase the length of your run and/ or the distance you run in a certain amount of time – but only if you run regularly.
Comfortable with solitude and social interaction. Drinkers drink alone and drinkers drink with friends. It's the same with running. You can run every morning at dawn by yourself and clear your head or you can run with someone else and make it more sociable – and also have someone to keep you accountable and running regularly.
Mini escapes. Escape is the name of the game in addiction. People drink to escape boredom, to escape negative feelings, to escape responsibility. When you run, you can escape the pressures of life but in a positive way, and you don't create a batch of new problems for yourself along the way.
Feeling good. Though alcohol ultimately makes you feel horrible – emotionally and physically – running can give you a "runner's high" because it causes a release of endorphins, or "happy hormones." Plus, there's the sense of satisfaction you feel when you tick off another run or knock another minute off your mile.
If running isn't your thing, what would give you a sense of satisfaction and provide you with something positive to fill your days in recovery? Have you always wanted to go back to school and get your degree? Would you like to start your own business? Are you interested in learning how to play a musical instrument or plant a garden or develop your own photographs?
The key to replacement therapy is finding something that requires regular practice, allows for measurable progress, and interests you. Not sure what you're into? Try something. If it doesn't work, try something else. There are no rules or limitations other than the obvious: don't choose anything that threatens your recovery.