Opiate Painkiller Addiction: The Fastest Rising Addiction in the Country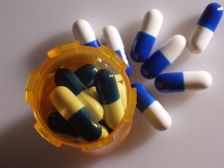 Opiate painkillers are opioid-based medications prescribed to treat moderate to severe pain. When taken as directed with a monitored exit plan that allows you to stop taking the medication when you no longer need it, they are safe. However, some who begin a legitimate prescription will end up with an addiction that can ruin their life – and in some cases, end it.
Some of the most common opiate painkiller medication that end up causing an addiction include OxyContin, hydrocodone, morphine, codeine, hydromorphone, and others.
How Opiate Painkillers are Abused
Most who abuse opiate painkillers do so by using their prescription in a non-medical fashion. This can mean taking more than the prescribed dose or increasing the number of doses per day. It can also mean taking the pills not as prescribed (e.g., crushing them first, snorting the crushed pills, or dissolving in water and injecting the pills after they've been crushed). In some cases, patients abuse their prescription by mixing them with alcohol and other illicit substances. The more rapid release of the medication through alternate forms of ingestion and/ or the combination of prescription painkillers with other drugs of abuse can mean a more intense high and an increased risk of overdose and addiction.
How Opiates Affect the Brain

Opiates attach to the opioid receptors in the brain, kicking your pleasure response into high gear and blocking your experience of pain. The high that results can be addictive and, if chronic pain is an issue, it can decrease your ability to fight pain naturally thus increasing your experience of pain when not under the influence. When chronic opiate painkiller abuse becomes an issue, it's easy for both a psychological and physical dependence to develop – an addiction that is difficult to break away from without chronic relapse.
Opiate Addiction Treatment
Opiate detox is the first step in opiate addiction treatment and focuses on the physical dependence part of opiate addiction. Medical treatment – even medication – may be a part of this process that will last as long as dictated by the patient's experience of withdrawal symptoms. When those symptoms are under control, work on the psychological part of addiction can begin. For some, this can mean a focus on traumatic events or underlying mental health issues that were a problem prior to the use of prescription painkillers. For others, the focus is on learning how to cope with life and upsets without turning to drugs and alcohol.
If you or someone you love is looking for a drug rehab for women, contact us at The Orchid today. Learn how you can begin the healing process after prescription drug addiction.