New Hepatitis C Treatment Boasts Incredible Cure Rate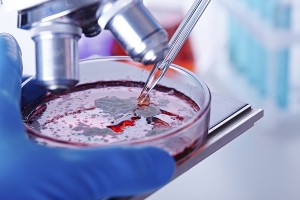 Hepatitis C is the most common chronic blood-borne infection in the United States, and Hepatitis C is so closely related to drug abuse due to that fact it is most commonly spread by shared needles among drug abusers. Now, an amazing new study that is currently underway has recorded an incredible 97% cure rate by AbbVie's new hepatitis C treatment procedure.
More about Hepatitis C
Between 50%-70% of people with hepatitis C develop a chronic infection, and people with chronic hepatitis C typically go on to infect others. Transmission of the virus through sexual contact is also possible, but it is rare in comparison.
It can also be transmitted through:
Blood transfusion
Hemodialysis
Needle sticks
Those who contract Hepatitis C are at risk for developing numerous health problems that can get worse over time, such as:
Cirrhosis
Liver failure
Liver cancer
The New Breakthrough
The AbbVie pharmaceutical company boasts that their newest discovery is extremely momentous, noting that this new treatment is set to help a high-risk group that's extremely vulnerable to the negative effects of the Hepatitis C virus.
In a mid-stage study of 34 patients, 33 were actually cured of the virus after 24 weeks of treatment, proving that AbbVie's breakthrough is indeed a significant one! AbbVie's experimental cocktail is a mix of several components, including:
Ombitasvir
Ritonavir
Dasabuvir
ABT-450
Ribavirin
Ribavirin is an already common antiviral drug used to supplement hepatitis C treatments. With such a power-house combination of supplements the AbbVie drug company's researchers are following the plan of action that has been utilized by successful HIV maintenance regimens.
Treating Transplant Patients
Men and women around the world who struggle with Hepatitis C suffer from some kind of liver damage, so liver transplant patients are particularly in need of new hepatitis C treatments.  With better cure rates, and fewer side effects, this new drug could usher in a new wave of treatment for these types of patients.
Even after patients who are lucky enough can receive a donated liver, and even if they have been cleared of the HCV virus previously, the infection has a good chance of showing back up in an even more dangerous fashion. In the United States more than 40% of individuals on the liver transplant waiting list have hepatitis C. With a statistic like that the potential financial benefits of such an effective treatment regime are pretty obvious.
Rating Success for new Solutions
The new treatment being developed by the AbbVie pharmaceutical company has the potential to change a lot of lives, and make a lot of money in the process of continued success. More details about their recent progress includes:
The data from this study also indicated cure rates as high as 100% in patients with genotype 4, a prevalent form of the virus in the Middle East and sub-Saharan Africa.
Even more importantly for Americans who are infected with HCV, the results showed cure rates of over 90% for patients who were co-infected with HIV.
AbbVie expects its first hepatitis C treatment to be approved by the FDA as early as the end of 2014. All the data present was recently released at the American Association for the Study of Liver Diseases conference in Boston.
Financial gurus are estimating projected $2.1 billion revenue for AbbVie's 2015 hepatitis C treatment, if the drug is approved that is. This is hopefully going to make a huge impact on those currently struggling with HCV and liver damage, and with intravenous drug use being on the rise as heroin and opiate use has become such a dominant addiction, hopefully there will continue to be new solutions and advancements in medicine to help save the lives that drug use can damage.
People who are intravenous drug users have a very serious risk of contracting blood born illness, including Hepatitis C and HIV, putting themselves at great risk for continuous health problems that will intensify their addictions symptoms. If you or someone you love is struggling with substance abuse or addiction, please call toll-free 1-800-777-9588