New Drug to Treat Marijuana Addiction?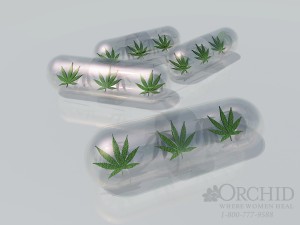 Many people still question whether or not marijuana addiction is a real problem. Some people with a substance abuse problem with marijuana are falsely under the impression that going to a drug treatment program such as rehab, you have to be using so-called hard drugs, like opiates (painkillers, heroin), cocaine, crack, or other such drugs.
But that's not the case. Marijuana use, also called cannabis and various street names, is becoming more and more commonly seen in people seeking help in the form of drug treatment. In fact, in the U.S., more people seek treatment for marijuana use than for cocaine or heroin use, surveys show. Yet there are no medications approved for treating marijuana addiction.
That might change soon. A new study suggests that boosting levels of a naturally-occurring brain compound could prevent relapse in people who abuse marijuana but are trying to quit.
Findings in Animals Studies
Researchers are studying drug-addicted rats and monkeys and found that a substance called kynurenic acid diminished the rewarding effects of the active ingredient in marijuana (THC). Kynurenic acid works by blocking the receptors that increase levels of the brain chemical dopamine, which is known as the feel-good chemical.
"Any drug of abuse has to do with dopamine," said study researcher Robert Schwarcz, a professor of psychiatry at the University of Maryland, in College Park. "We found out few years ago that kynurenic acid controls dopamine. All we had to do was put those things together," Schwarcz said.
Cannabis' THC works by activating dopamine neurons in the region of the brain known as the ventral tegmental area (VTA), which then causes the cells to release the feel-good chemical from nerves in the nucleus accumbens, another area of the brain known as the reward center. There already have been previous attempts to find a treatment for marijuana addiction, which also found that blocking receptors in the VTA and the nucleus accumbens could prevent the surge in dopamine but, those treatments caused unwanted side effects.
The researchers wondered whether kynurenic acid, the product of the breaking down of the chemical tryptophan, found in bananas and turkey, could have fewer side effects, since it naturally controls dopamine levels in the brain.
In order to find out whether kynurenic acid could treat marijuana dependence, Schwarcz and his colleagues gave rats and squirrel monkeys a drug that boosted their levels of kynurenic acid, while the animals were in control of administering themselves the drug THC or a similar synthetic version of the drug by pushing a lever.
The researchers observed that both the monkeys and rodents were less likely to self-administer the THC or synthetic drug when they were being given the dopamine-blocking drug. These findings were reported online in the journal Nature Neuroscience.
The researchers conducted a different experiment in which they withheld the THC or other drug from the animals for a period of time and then increased their kynurenic acid levels while either giving them a small dose of THC or a cue that they had learned to associate with taking the drug.
Again, their findings were that, by boosting kynurenic acid, it prevented the animals from returning to their previous drug abuse patterns. "We found that you can reduce dopamine levels and the animals behave differently — they don't have relapse, and don't abuse marijuana," Schwarcz told LiveScience.
As promising as these findings are, there has yet to be any trials with humans. This research is important in other, far-reaching ways; it's possible that the drug used to treat marijuana addiction could act on other parts of the brain, not only those involved in marijuana addiction, and therefore might prove of benefit to people struggling with addictions to other drugs, and perhaps even behavioral addictions such as eating addition, food addiction, gambling addiction, and sex/love addiction.
Marijuana addiction is real. If you find that you want to stop smoking marijuana or using it in any other form, help is available. Call toll-free 1-800-777-9588 to speak with an Addiction Specialist today. We are available to take your call 24/7 and can discuss resources as well as treatment options with you. You are not alone.