Macy Gray Says Drug Use Damaged Her Career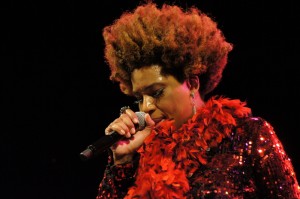 It's been a while since we've heard anything from Macy Gray, the unique singer with a standout voice and eccentric personality (and wardrobe). After all, it was all the way back in 2000 that Gray exploded on the scene with her triple-platinum debut album and No. 1 single "I Try." However, she seemed to disappear from the spotlight just as quickly as she rose to fame.
Then, Gray appeared on an appearance on the latest episode of the OWN series, Oprah: Where Are They Now?, Gray stated that her drug use was at least partially responsible for her career decline.
Macy Gray, an Ohio native, said that the stress of instant fame and wealth became too much to handle and admitted that she behaved like "a massive a$$hole. I probably made a lot of people upset."
Macy Gray Says Drug Use Damaged Her Career
In order to cope with the stress of living the life of a celebrity, Gray says she eventually turned to drugs, eventually becoming hooked on hash and the club drug, ecstasy.
"My drug use started as a result of being on tour," she confided in Oprah. "My crew was from England. All they did was smoke hash all day, and they knew where to get the good ecstasy. So, you start playing with stuff, and then, suddenly, it's like a crutch."
Gray also chalked up her extremely eccentric behavior, such as wearing sunglasses during interviews and even not answering questions, was also due to her drug use, which would cause her nod out on-and-off during said interviews.
But, it wasn't until Gray saw the physical effects if her drug use that she got her 'wake-up' call. "I looked in the mirror one day, and I had bags [under my eyes] and my skin was doing weird stuff," she explains. "That really scared me, so, I swear to God, I quit. I quit that day, just because of my looks." The singer said that this was what she considered to be her rock bottom moment she subsequently quit using drugs cold turkey.
Now clean and sober, she's bouncing back. The singer is currently endorsing her new album, The Way, which was released earlier this month. Although she isn't playing the theaters and arenas she used to at the height of her success, Gray said she doesn't regret going down the path she ended up taking.
"I just kind of took [my success] for granted and assumed that it would be like that for the rest of my life. I pissed a lot of people off and I think I stopped working as hard as I used to," she said. "Things had to happen the way they had to for me to be what I can be now. For me to get off drugs, for me to just stop being an idiot…I had to go through all of that stuff."
Good Luck, Ms. Gray. A sober life is a much more fulfilling, and happy one. If you are struggling with substance abuse or addiction, there is help available to support you in stopping and beginning the recovery process. Please call an Addiction Specialist toll-free at 1-800-777-9588 who can answer your questions day or night.