Kardashian BF Scott Disick Reports He's Not Completely Clean and Sober
The Kardashians are often in the limelight for one thing or another, but on a recent season that highlighted Kourtney Kardashian and her relationship with boyfriend, Scott Disick, addiction played a large part of the story. Disick's behavior while under the influence of alcohol was a huge topic in the program, causing problems between him and Kourtney and even more issues for Kourtney with her sisters, Kim and Khloe.
Since the airing of the episodes showing his violent temper while under the influence, Disick promised to get himself under control. While it was assumed that that meant getting the help he needed to quit drinking, it appears that Disick had something else in mind. He says now that he has not remained sober despite his promises.
Disick told girlfriend, Kourtney, that he "didn't lie, but I kind of kept some of the truth from you about that time when I went with all the boys to Vegas."
He went on to say: "I didn't get out of control. It's nothing crazy, but sitting here in Tahiti makes me think I wouldn't mind having a drink or two because I believe that I'm in a place that I could have a drink or two responsibly and not get crazy."
Broken Promises
Kourtney didn't necessarily agree with his assessment of the situation or his belief that he doesn't have to keep his promise of sobriety. She said: "I just don't know how I feel about that. It's hard for me to trust you because of everything's that gone on, and I don't want it to get back to that place."
Kourtney Kardashian is not the first to suffer an abusive temper at the hands of a loved one – or to let it go when they promise to get sober after an inexcusable incident and ultimately break that promise with rationalizations. It puts the family member in an awkward position, waiting for the inevitable explosion that comes as alcohol and drug abuse that is "under control" eventually escalates to its former levels with all the same consequences – but still wanting to believe that it's possible for their loved one to live a life characterized by a normal relationship with alcohol.
Dealing with a Loved One Who Promises Sobriety… And Doesn't Deliver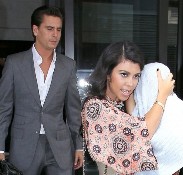 One of the best ways to deal with a loved one who cannot control their alcohol and drug abuse is to set boundaries. What those boundaries consist of will vary according to your comfort level and goals for your life – not your hopes for your relationship, but your needs based on the reality of your loved one's alcohol and drug issues. Therapy and 12-step groups for family members of alcoholics can help you to create boundaries and maintain them, allowing you to provide positive support for your loved one without getting hurt.
Any advice for Kourtney? How would you handle her situation?