Heroin Addiction Treatment for Women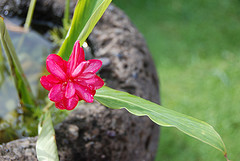 Heroin is a pretty mean and dirty drug.  It doesn't let you live the charade of  "I don't have a problem" for very long.  It sucks you in, beats up your body, and drags you around by the nose within a very short time.  Heroin attacks your body and mind, keeping you hostage until you either die or fight tooth-and-nail to break free.  It's no wonder there is such a great need for heroin rehab for women. 
Heroin In the Body
The big problem is that once the body becomes accustomed to the presence of heroin (which can take as little as a few days), it quickly takes more of the drug to get high.  Before long, the body literally needs it to feel just normal.  The body forgets how to use its own neurotransmitters and relies on the heroin instead.  If the user tries to cut down or suddenly can't get their supply, they are in for real physical agony.  The "withdrawal" experience usually prompts users to get a new supply as quickly as possible. 
Heroin triggers the release of three neurotransmitters – dopamine, norepinephrine, and endorphines.  These three have a direct effect on emotions, responses, and physical behaviors.  Heroin gets these neurotransmitters way off-kilter, causing a person to constantly "chase the high" and become very sensitive to their own fight-or-flight response. 
Heroin And the Mind
Heroin gives users a rush of excitement, euphoria, and sense of comfort.  It is nearly immediate whether smoked or injected.  This rush of pleasant sensations and calm emotions quickly becomes the user's desired state.  It is unrealistically wonderful and all-consuming. 
Once the physical tolerance begins to set in, the regular user begins to think they can't feel normal without the artificial sense of calm.  They have stopped seeking calming effects through healthy activities because nothing beats the instant heroin rush.  They pursue their drug use and drug supply above nearly anything else that may need their attention.  This includes such basic activities as personal care, going to work, paying bills, and getting food.  This can be especially dangerous when a heroin addict is a parent or has others depending on them for their safety and shelter.  Their heroin cravings for heroin take top importance, making it hard for a user to stop or even reduce their drug use. 
Heroin Detox
Heroin detox is pretty serious business.  It is a medical process that usually involves one or more detox drugs like buprenorphine or methadone.  These drugs make the detox process easier on the woman's body, but it doesn't take away every discomfort.  As it was mentioned earlier – heroin is a mean dirty drug, both going in and out. 
Detox is one of the biggest obstacles for heroin addiction recovery.  The withdrawal symptoms can be very difficult to endure, even when given treatments to increase comfort.  These can include sweating, chills, nausea, abdominal pain, headaches, and other problems.  No one single detox treatment has been shown to be more effective than another.  Helping the heroin user to the "other side" of the detox process is a tremendous journey for everyone involved.
Heroin Treatment for Women
Heroin treatment is no picnic – it can be physically uncomfortable, emotionally wrenching, and fraught with obstacles.  However, there is a true ray of hope for women addicted to this terrible drug.  Heroin destroys many lives every year, but there are also many hope-filled stories of women who have escaped the clutches of heroin.  The Orchid Recovery Center for Women helps women with drug addiction face the drug rehab process together.  The Orchid offers a strong network of women to be there for every courageous step.