Girls Mom Comes Home From Drug Rehab For Christmas
Sarah, a fictitious 9 year old girl, gets her wish of having her mom home at Christmas from drug rehab 
Christmas Wish of Mommy Coming Home From Drug Rehab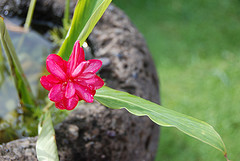 My best Christmas wish ever came true!  Mommy was gone at the drug rehab place for a super long time, and I really missed her.  Then I wished for her to come home for Christmas and she did.  I told Daddy if I couldn't have any other present this was what I wanted. 
Mommy said we have to do some things differently this Christmas.  We usually go to my aunt's house on Christmas day for a big supper and opening presents.  Then the adults play card games and all the kids watch movies and play with our new Christmas toys downstairs.  But mommy said we can't do that this year.  It's just too many people at one time right now. 
Christmas Will Be Different This Year After Drug Rehab
Also, I know the adults always have wine and other drinks that are really stinky when they're playing cards.  And the kids get the fizzy grape juice that looks like wine but it isn't.  Mommy said she can't do that anymore either, which I guess is something the people at her drug rehab place must have told her.  I don't really know why, but I don't care because I'm just glad Mommy's better.
She said we'll just have our own Christmas at home with just us this time.  I like that, and I guess I'll just see the other people in my family some other time.  But I don't know when that's going to be because we just have one Christmas.  It's going to be really weird this year.  I'm kind of wishing we could go, but I think we have to do what the drug rehab people say to keep Mommy staying better. 
Healthy Eating During Drug Rehab And At Home
Also, Mommy wrote to us before she came home about the food she's been having.  It sounds like a lot of healthy stuff like carrots and fruit and chicken, but not fried chicken.  She said we're going to have that kind of food now too because it makes her body better or something.  I don't really know why that helps her with not taking that medicine, but she said this is what she did when she was at the drug rehab place. 
I guess she's going to be doing a lot of stuff that's different from before, plus she won't be sleeping all the time and not doing stuff with me.  She said we're going to be spending more time doing stuff like a family with Daddy too.  But she also has these meetings every week.  Mommy said she talks about how she's feeling or if she's been taking that medicine.   
Family Helps Mom In Recovery After Drug Treatment
We all need to be a family team to help her, I think.  I just don't want her to take that medicine anymore.  We threw it out as soon as she left, and I hope her doctor doesn't give it to her anymore either.  I was really really sad before and I don't ever want to feel sad like that again.  I try to forget, but I don't always forget very well.  Mommy said she wants me to talk to her if I feel that way. 
But mostly I'm just so happy Mommy's back home.  I don't want this Christmas wish to ever end.