Girls Mom At Prescription Drug Rehab
Sarah, a fictitious 9 year old girl who's mom went to drug rehab a few weeks ago for prescription drug addiction
Mommys Secret With Taking Too Much Medicine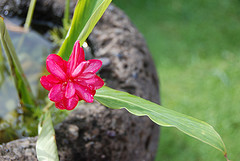 My mom didn't tell us this, but she's been taking some bad drugs for a long time.  She had these actually to help her because she was in a car accident, and she couldn't walk for a while, and her back hurt pretty bad.  She kept saying that her back was sore and she took her medicine for a long time.  Except we didn't know she was taking way too much and it was hurting her body.
I miss my mom now, because she's been gone for a few weeks and I'm used to having her around.  But actually, really I've been missing her for a long time.  Because she's acted kind of sick ever since she had the accident.  Some parts of her have gotten better, but she's still just been pretty sad and crabby.  Like she's here, but she's kind of not here. 
She can't do stuff with us because her back is always sore, or she's in her room sleeping.  Or she just wants us to leave her alone.  Then she cries because she knows she's not with us very much.  I don't like it when she feels so bad, but I get sad because she's like somebody else all the time.  She's my mom but she's not my mom.  I miss my mom from before she had the accident. 
Drug Rehab Is Where Mom Needs to Be
Daddy says that she's at a place called drug rehab.  I didn't know what this drug rehab thing was before.  But he says this is a place that will help her stop taking her medicine so she can think better and not feel so sad.  I didn't know medicine could make you feel worse, because she had it to help her.  But I guess she started wanting her medicine more than anything else. 
He knows I miss her, and he does too.  I really really wish she didn't have to go away to get better.  I wish she could be here in our town so I could see her every day.  But Daddy keeps saying that this drug rehab place is the best thing for her now, and after she's there she can be with us again.  And she will be better.  I think about her all the time, and I don't know really what she's doing all day.  But she did write a letter to me to say that she loves me and can't wait to be home.  And I keep that letter in my backpack every day. 
My Favorite Day Mom Home From Drug Rehab
My favorite day ever will be when she can be back home with me and Daddy.  I just hope she doesn't ever ever take that medicine again or go back to that drug rehab place for so long.  I don't want to keep crying about her anymore.  I love her and I want her back like before her accident, not the sad mom I had after the accident.  I can't wait to hug her again.