Food Engineering for Snack Addicts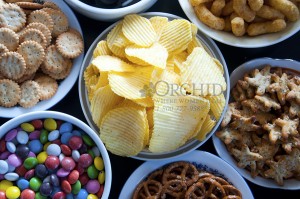 Craving, it doesn't just happen to food addicts. Almost everyone experiences the impulse to seek out and consume a favorite snack food. The big food companies have done the research necessary to keep you coming back for the next snack. Thanks to an army of chemists, physicists and even neuroscientists, all working to make sure you want a second snack, these companies all strive to dominate your stomach. What most food companies don't care to acknowledge is that the effort they're putting into developing more crave-able food is helping to engineer a food addiction.
Detective Work with Michael Moss
Michael Moss is a New York Times investigative reporter who spent a lot of time and energy doing a degree of rigorous detective work into the subject of engineered food, and spend 4 years prying open the secrets of the food industry.
"Salt, sugar and fat are the three pillars of the processed food industry. And while the industry hates the world 'addiction' more than any other word, the fact of the matter is, their research has shown them that when they hit the very perfect amounts of each of those ingredients … they will have us buy more, eat more."
When Moss began his work investigating the science of food processing, he was sceptical of concept of food addiction, but once he spent some time with the top scientists in the U.S. that actually told him that it is a fact for some people, the most highly loaded salty, sugary, fatty foods are every bit as addictive as some narcotics.
"These companies rely on deep science and pure science to understand how we're attracted to food and how they can make their foods attractive to us."
He also ended up writing a new book, which was titled Salt, Sugar Fat: How the food giants hooked us. The title directly referenced the startling discoveries Moss made about how the food industry manipulates the manufacturing of foods in order to control the average consumer through cravings and drive production and profits. He said,
"This was like a detective story for me, getting inside the companies with thousands of pages of inside documents and getting their scientists and executives to reveal to me the secrets of how they go at this."
After he had spent time with the top scientists at the largest companies in the country Moss was amazed how much math and science and regression analysis and energy that was put into finding the very perfect amount of salt, sugar and fat in their products that will lure the shopper back time and time again.
Behind the Scenes with Bruce Bradley
Bruce Bradley is a former food industry executive who spent 15 years working at General Mills, Pillsbury and Nabisco. Bradley made some major contributions to food brands including Honey Nut Cheerios and Hamburger Helper, but after a time he was too conflicted to continue. Now he writes a blog, critical of the food industry.
"There were certainly times that I felt uncomfortable or troubled by what I was doing. I think that's ultimately one of the reasons why I left the industry. As you start to get glimpses of products and you understand better how consumers are using them, and then you see trends like obesity and health issues that are increasing, mainly driven by the food we eat, it was hard for me not to just take a more thorough assessment of what I was doing."
Bradley decided to step out and ultimately speak out against these companies with hopes of bringing more awareness to the issue. The foods we eat and drink the majority of these big name companies according to Bradley is not that good for us. He went on to account from his experience that these products are designed to keep you coming back to eat more and more and more.
Bruce Bradley says all of that processing takes food to a different place.
"We're not talking about food actually being real anymore. It's synthetic, completely contrived and created, and there's so many problems about that because our bodies are tricked and when our bodies are tricked repeatedly dramatic things can happen, like weight gain"
Along with weight gain there are plenty of other health risks associated with this kind of obesity which include:
Endocrine disruption
Diabetes
Hypertension
Strategies and Satiety
3 of the scientific strategies that food companies have developed are:
'Mouth feel'
'Maximum bite force'
'Sensory specific satiety' (the rate at which a food product loses its appeal as it is being eaten)
Sensory specific satiety is a term that specifically expresses when food has one over-riding flavor and if it's attractive, it will be really attractive to us initially. However then we will get tired of it really fast. So these companies make a concerted effort to make their foods not bland, but really well blended, so people don't get too full too fast, and stop eating too soon.
Thorton Mustard was a food industry consultant who revealed some secrets of the food industry when we wrote a book called The Taste Signature Revealed back in 2002.
"If the taste builds too much, consumption will stop … and snacks need to be eaten non-stop until the packet is finished,"
He wrote that fullness or satiety. is "quite a serious enemy for a product."
Mustard claimed he could help food companies design foods that were guaranteed to be "more-ish," which he defined as a quality that made a consumer want to eat more. His strategy for "more-ish" included specific elements of blending the nature of food to be of maximum desirability, including things like:
The importance of "crunch" was confirmed in a study funded by Unilever where the chips were perceived as being both crisper and fresher when the overall sound level was increased.
If the food dissolves quickly in the mouth, it tricks the brain into believing that no calories have been ingested. It's called "vanishing caloric density."
Biting the 'Bliss Point'
The ultimate goal is the 'bliss point'. The company's researchers have learned to study their products, fiddle with the formulas until they hit that very perfect spot of just enough and not too much sugar to create what they call the 'bliss point'. This 'bliss point' is exploited through several different strategies that also have to do with how a product fits in the mouth.
But many ingredients in processed food have nothing to do with taste, but instead are to reproduce a certain texture to control the moisture level, and keep the various ingredients from separating and spoiling during the months that they will sit on the shelves. To mask the bitterness or sourness that the formulations can cause, the food industry uses flavor enhancers; tricking the brain of the consumer into tasting something that isn't there, and hiding the taste of something that is there.
Changing the Cravings
Bruce Bradley says he believes food companies are trying to make some changes, and that he thinks there's an element of it that's sincere. Through his investigations he worked on several products where there was a sincere effort to reduce the amount of sodium or sugar in that product. But he says there is only so much tampering that can happen with the three basic building blocks of processed food while maintaining taste.
Some companies promise healthier snack foods. However many believe the food industry has simply identified a new marketing opportunity, and that these companies will only chase down the 'healthy alternatives' angle as long as it is making them money, but will not hold the trend if it begins to cost more than it makes.
So while some still question whether food addiction should be taken seriously, researchers and experts on the subject attest to the fact that food addiction is VERY real, and that in todays society the food industry is focusing a majority of its efforts on exploiting the fact. While they still try and steer clear of the word 'addiction' that is what they are creating, in the most roundabout way possible. They are doing everything in their power, not necessarily to make food bad for you, but to design the food based on ingredients, taste, and even the shape and texture of the food to make it more attractive to consumers and more 'addictive' to the appetite.
Addiction is a powerful and dangerous affliction that can have a hazardous effect on every aspect of an individual's life, and food addiction is especially harmful to an individual's health. If you or someone you love is struggling with substance abuse or addiction, please call toll-free 1-800-951-6135