Ecstasy Abuse During Pregnancy Can Mean Problems for the Unborn Baby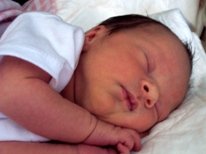 It shouldn't be a surprise; taking the drug Ecstasy while pregnant can mean bad things for your unborn child. Everything from poor motor control to growth rates and brain developments were assessed at birth and four months later in a recent study published in the Feb. 28 issue of Neurotoxicology and Teratology, and the results were clear: Ecstasy is not a good choice for pregnant women.
The Study
About 100 women were surveyed on their drug use during and before pregnancy. Most participants reported using a wide variety of illegal drugs, but those who abused Ecstasy were the focus. Among babies born of Ecstasy users, the results showed:
Poor motor control
Poor hand-eye coordination
Inability to balance their heads
Inability to sit up without help
Inability to roll from their back to their side
Lynn Singer was one of the study's authors. She is also a professor of environmental health sciences, pediatrics and psychiatry at Case Western Reserve University School of Medicine, in Cleveland. She says: "The potential harmful effects of ecstasy exposure on prenatal and infant development have long been a concern. The drug's negative effects are particularly risky for pregnant women, who may use the drug without being aware of their condition."
Ecstasy Is Dangerous
According to the U.S. National Institute on Drug Abuse, Ecstasy (also known as 3,4-methylenedioxymethamphetamine or MDMA) is one of the most widely abused illicit substance in the world. It's also one of the most dangerous. When abused, Ecstasy can deplete the user's serotonin, a chemical that is important to the early development of the unborn baby. Brain development can be significantly altered in the child if the mother takes Ecstasy.
All the results of the study are not yet in, as the authors will continue to follow the development of the children through the first 18 months of their lives.
Finding Ecstasy Abuse Help
If you are pregnant and concerned that you will be unable to stop abusing drugs like Ecstasy during your pregnancy, we can help. Contact us today at The Orchid to learn more about our inpatient drug addiction treatment programs designed specifically for the needs of women. We can help you get healthy for yourself and for your baby. Call now for more information.