Drummer Patty Schemel Talks About Life After Heroin Addiction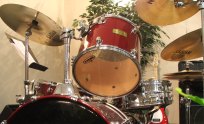 Drummer Patty Schemel once played for the band Hole and is the focus of a new documentary called Hit So Hard: The Life and Near Death Story of Patty Schemel. Now screening at film festivals across the country, the documentary tells the tale of Schemel's experiences in a famous band and her struggles with heroin addiction which she eventually overcome.
Building a Foundation for Hole… and Heroin Addiction
Schemel grew up in a small town and soon found that most of the world was not as receptive of her gay identity as her supportive parents were. According to Schemel, her mother told her "There's such a huge world out there for you," and with the support of her family, Schemel went out to find it. She soon found "her people" and began to play music more and more. It wasn't long before she was introduced to Courtney Love and other members of the band, Hole… and heroin.
Schemel's Heroin Addiction
Her heroin addiction was not at all connected to her identity as a lesbian. Though many gay and lesbian youth turn to drug and alcohol addiction as a way to escape the pain and guilt that they feel for the discrimination they face, this was not Schemel's experience. For her, heroin started out as something to try, but she had a genetic predisposition for the development of addiction so experimental use quickly turned into something more serious.
Heroin Addiction Treatment for Schemel
After a few years of living with an active heroin addiction and continuing to tour with Hole, Schemel soon lost control. She left the band and began the process of seeking treatment for heroin addiction – but it was a long road.
When asked what helped her to finally start living a clean and sober life, Schemel said: "The small things like the small estimable acts like taking time to help and teach drum students or teach rock and roll camp for girls and that got me back to being around music. Now I do all kinds of stuff with music. It was a slow return, you know?"
Schemel hopes that the documentary will remind viewers to be careful of what they wish for. Also, because she lost a lot of friends along the way to heroin addiction, she hopes that the documentary may inspire viewers to make the changes necessary to kick their own habits.
Women who are interested in heroin addiction treatment can call The Orchid today and learn more about our woman-centered heroin rehab program. Call now.