Drugorexia: Abusing Drugs to Lose Weight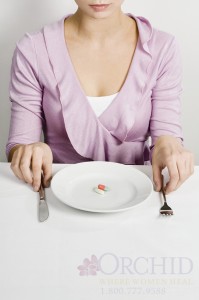 Drugorexia is a serious and wretched issue, primarily concerning women and substance abuse. Society now is in a period that not only subjects women to the concept of the need for a perfect body image, but also the culture that promotes the use of illicit street drugs. So many women are resorting to dangerous methods according to a survey, while still countless others take over-the-counter slimming pills or laxatives to try to shed the pounds. Helen Johnston the editor of NOW magazine, which conducted the recent survey stated,
"Body image is the female curse of the 21st century. Whatever a woman's achievements in life, her whole self-image is totally bound up in her body shape."
Despite these drastic measures in order to try and loose the weight, both drug-abuse and drastic dieting are largely ineffective tactics for long-lasting weight loss, with the great majority regaining any weight they may have lost within weeks or even days. The following information was determined by the survey of 2,000 women with an average age of 35.
Survey Statistics
One in seven women are reported to currently be using drugs such as cocaine or speed in a desperate attempt to lose weight.
Nearly three out of ten women who took part in an internet survey admitted they had made themselves sick after eating.
One in seven of those females responding to the survey claimed they had taken Class A drugs in an effort to lose weight.
The same survey, carried out by online analysts Demographix, found more than eight out of ten of those questioned had dieted. Out of the women surveyed almost 1/3 said they counted calories the entire time using the following:
37% had taken slimming pills
15% had taken speed or cocaine
26% had used laxatives as slimming aids.
Adderall Diet Addiction
Since as far back as 2002 the number of prescriptions for all amphetamine-based drugs used to treat ADD including medications like Concerta and Strattera has skyrocketed. Sales for Adderall XR (extended release) have more than doubled in the five years 2002-2007 alone, from 4.2 million in 2002 to 9.5 million in 2007 according to IMS Health. Online the drug Adderall ranks right up there with Viagra in most-hawked pharmaceuticals on the Internet.
There is a tempting yet dangerous side effect to all stimulants, and Adderall has become one of the most popularly abused, they stimulate the dopamine center of the brain which regulates pleasure sensors. This causes a feeling of euphoria and a loss of appetite, making it a sought after solution for those who seek a quick-fix to their dieting struggles. So it's no great surprise that the young and beautiful, many of whom have grown up getting these medications from their friends' to increase their mental edge at exam time, do not necessarily want to give it up when studying is no longer the issue. It quickly becomes their answer to how to change their whole body image problem, and so many addicts will agree that they kept using at times when they knew the drugs were contributing to their weight. But this is all done at a deadly and devastating cost to the mental and physical health of an addict.
Expert Opinions
Experts warn in accordance with this type of trend that women are now playing a dangerous game by using drugs to get thin. While the glamorous image of cocaine masked health risks such as heart attacks and strokes, these women took risks beyond drug addiction. Several dozen deaths are attributed to the use of cocaine and amphetamines every year.
Fewer than one in five never tried to diet and only 2 per cent claimed to be happy with their body. Women would spend on average $11,000 for a better one.
A third of women said they would give up sex to be slim forever while 86% said they would rather drop a dress size than sleep with David Beckham.
The medical director of Weight Concern Dr. Ian Campbell announced how alarming and concerning it was that women were using illicit drugs in repeated and failed slimming attempts.
"There is no evidence that they have any long-term effect on weight but a great deal of evidence that they are harmful to health. The only long-term solution to weight control is lifestyle changes, including dietary modification and more exercise. There is no substitute for effort." He explained after reviewing the statistics.
David Raynes of the National Drug Prevention Alliance said that the abuse of drugs such as cocaine could kill and cause facial disfigurement to those who are taking these kind of risks for that body image.
"I fear that women are using drugs as an excuse for attempts at slimming, much like women say they smoke in an effort to keep their weight down. But it's a cop- out and women should be aware of the very real dangers." David Raynes went on to say.
How this may be a little insensitive, it is a reality. The self-destruction of the body through overloading it with chemicals that diminish an appetite and poison the system is just one way that the disease of addiction finds its way into the lives of those who least expect it, and all in the name of shrinking a size or boosting your work-out. Drugorexia is dangerous, because if you're lucky you might lose weight in an unhealthy way, but a lot of people run the risk of losing a lot more, like your life.
Drug-dependent dieting and other eating disorders are beyond counter-productive to creating a healthy and happy life, these methods are dangerous and often deadly when they are pursued indefinitely. Abusing drugs and alcohol in order to maintain a weight is a sad reality, mostly for women, that we must do our best to over-come, because this kind of diet will also shed years off your life, and can lead to serious addiction. If you or someone you love is struggling with substance abuse or addiction, please call toll-free 1-800-777-9588