Drug Addiction Keeps You From Really Settling
People take drugs and drink alcohol so that they can blur out from reality.  When this becomes and addictive problem, impulse control becomes a big problem.  After a while, impulses tend to drive everything they do.  No more patience, no more waiting around for something, it's got to be instant gratification.  And if you are bored or trying to avoid deep emotions, impulses often take you away from reality.
Settling Down Feels Frightening For Drug Addicts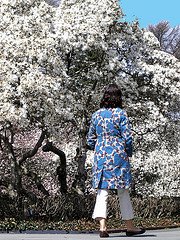 Whether it's employment, relationships, or their living arrangement, many drug addicts are often quite unsettled.  Getting attached and personally involved means more pain and the chance of losing something.  Zoning out on drugs helps to ease the discomfort from getting attached.  But sometimes it's just easier to float around in life.
Attaching and settling with people, locations, jobs, or communities means that emotions are made vulnerable.  Even when a person goes through drug treatment, impulse control and settling in can still be difficult.  Sobriety can be filled with uncertainty because so many things have been covered and blurred.  Learning to trust and establish roots can be hard at first.
Drug treatment helps a person with these kinds of adjustments.  Relationships are developed slowly and openly.  The transition back home is thought out carefully, possibly including a stay at a sober home.  Drug treatment probably won't make this problem 100 percent better right away.  But what it will do is help that person develop their foundation.
Drug Treatment Helps Develop Trust
They learn about basic trust, self care, caring relationships, taking responsibility, and thinking about life outside of themselves.  All of these elements help an recovering addict establish something they can count on.  Once they can count on themselves and caring people around them, they will be less likely to get the urge to be flighty.  They will understand it's safe to put down some roots and make attachments.  There isn't pain lurking around every corner.  There's no need to run away to stay clear of the pain.
Drug treatment can bring relationships and stability back into a drug addict's life one day at a time.  The caring therapists create a warm inviting atmosphere to earn an addict's trust.  They know that many addicts
have been though a lot of pain and had problems with many relationships.  They give addicts a chance to start anew and learn about relationships all over again.  Learning to trust another human being and themselves can give them the building blocks to a more stable life.