Creative Social Rehabilitation: Covering Up Jailhouse Tattoos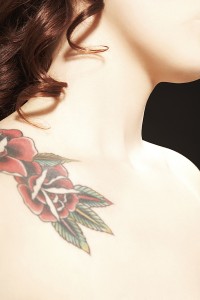 (This content is being used for illustrative purposes only; any person depicted in the content is a model)

Sometimes – many times – it's the small things that can make the biggest difference.
One group in Poland recognizes this and is doing something unconventional: helping former prisoners put their past behind them with a little bit of ink.
Creative Social Rehabilitation: Covering Up Jailhouse Tattoos
Poland's Pedagogium The College of Social Sciences is collaborating with the creative agency Isobar Poland in an effort they describe as creative social rehabilitation. Specifically, they are offering the services of a tattoo artist who can cover up their crude, sometimes offensive, sometimes disfiguring jailhouse ink.
It seems like such a minute detail when it comes to rehabilitating ex-convicts but, for some, it's the main thing holding them back in rebuilding their post-jail lives.
The idea is to cover up the tattoos these women got while behind bars with larger, more decorative tattoos. As tattoos are becoming more socially-acceptable, the best solution, other than tattoo removal, which is expensive, painful, and can be a long and involved process, is to basically make lemonade from lemons.
The process also takes on the offering of an opportunity for the women to feel beautiful again.
In a promotional video by the Pedagogium-Isobar Poland collaboration, women who got tattoos behind bars are shown having a tattoo artist cover up what they view as regrettable ink with larger, beautiful designs. The ad, which is part of Pedagogium's "Freedom Tattoo" campaign, shows former inmates looking toward brighter futures without the visual reminders that have kept them for realizing their full potential.
"Now I can discover a part of myself again," one former prisoner said in the video. "I am a woman. Now I can take another step. And this is fantastic because I don't have to be locked up anymore in that gray world that held me back."
The Freedom Tattoo Project
The video highlights the issue that prison tattoos, which are typically poorly-crafted by using improvised tools by other inmates, and how they can stigmatize former inmates who have them, discouraging potential employers from hiring them.
Tattoos that are done in prison are often more difficult to remove and can result in scarring. That's why the "Freedom Tattoo" project has taken a different approach: aiming to create designs that are "better looking and better perceived by society."
"If they decided to get tattoos, then it means that they wanted to express something," Professor Konopczynski of Pedagogium's Warsaw School of Social Sciences explains in the video. "We help them express themselves better."
Isobar Poland explained to The Huffington Post how the project is able to work. The tattoos are provided free-of-charge by tattoo artists who volunteer their expertise and parlor space for the project. The costs of materials, such as ink and needles, are covered by donations from Pedagogium's private donors.
Have you recognized that you are struggling with a substance or behavioral issue that you want to address but don't know how? Is there something holding you back from getting the help you know you need, whether you are able to admit it? Substance abuse disorder, drug and behavioral addictions, and mental illness are all medical conditions for which specialized treatment is available and designed to lead you to success. Please call toll-free 1-800-777-9588 to speak with a compassionate, understanding professional, known as an Addiction Specialist, who can answer your questions. All calls are confidential.