Could a Gene be the Cause of Anorexia?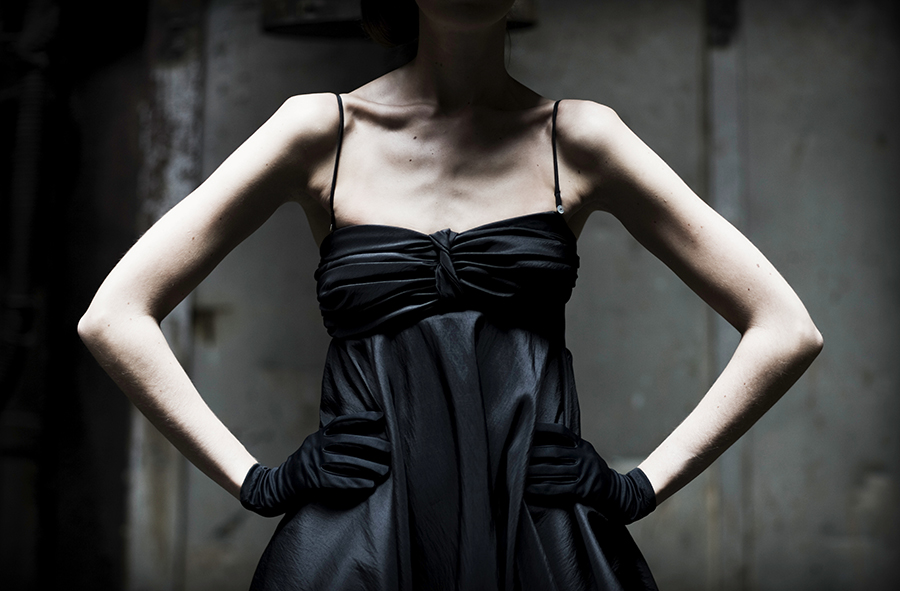 Too many beautiful women, men and young people suffer from obsessions based in a contorted body-image and manifesting as self-starvation and ravenous purging. Thanks to the tireless work of awareness groups and advocates who speak for those who are struggling it is becoming more commonly accepted that eating disorders aren't a lifestyle choice, but an addiction as cunning, baffling powerful as a drug or alcohol problem, in so many ways it's scary.
Now a study from a research team at the University of Iowa is confirming this synopsis by suggesting that some people are more genetically predisposed to developing eating disorders, just like drug and alcohol addictions. It takes a mix of elements to create an addiction, both internal and external.
Recently some have even claimed to have discovered a link in genetics between eating disorders and alcoholism… so there's that. Now we have the possibility of better understanding the genetics behind some of the most devastating eating disorders. Seems some scientists are trying to close any misconceived gap between genetics and mental health.
Analyzing Anorexia
Eating disorders are nothing to take lightly, and most people don't realize that statistically 1 in 200 American adults will develop anorexia nervosa in their lifetime, and at least 1 in 20 (1 in 10 teen girls) will struggle with some form of eating disorder that doesn't meet full diagnostic criteria for the most generally known eating disorders, which include anorexia nervosa.
According to the National Eating Disorders Association (NEDA), anorexia nervosa is a multifaceted eating disorder with three key factors:
Refusal to maintain a healthy body weight
Intense fear of gaining weight
Distorted body image
This life-threatening eating disorder is commonly characterized by self-starvation and excessive weight loss, and affects a massive population of young people.
One intriguing claim presented by the lead researcher of this particular project, Dr. Michael Lutterat, is that he has found the gene responsible for anorexia! This would truly be a breakthrough beyond words, and Dr. Lutterat seems very enthusiastic about the opportunities this presents.
The conclusions published in the Cell Report actually suggest Dr. Lutterat has astoundingly pinned down the specific genetic mutation that causes the development of eating disorders, which he was able to study by gauging the numerous behavioral abnormalities found in mice with the mutation, which were comparable to human beings who have suffered from anorexia.
These findings are an extension of his previous work on the subject, during which he had suggested that 50-70% of the risk attached to an individual developing an eating disorder was genetic. A study out of the University of Iowa back in 2013 found that people with mutations in two different genes had an 85-90% likelihood of developing an eating disorder, including the genes:
At the same time Dr. Lutterat also had to acknowledge the current rise in eating disorders was not genetically related. He wrote,
"We know that the rate of eating disorders has been increasing over the past several decades and this is likely due to social factors, not genetics. Clearly social factors, particularly the Western ideal of thinness, contribute to the remaining non-genetic risk."
I think this further contributes to the concept of what I personally call the 'perfect storm' scenario. Basically it's the idea that it takes a combination of genetic make-up and our environment to increase the risk of addictions, not just one or the other. And the intensity of influence from the outside world varies depending on each individual's genetics, so the habits and behaviors I'm influenced by may be more or less than what it takes you to get addicted. Same could probably be said for eating disorders, if this whole concept is correct.
The amplified prevalence of things like 'thinspiration' and 'selfies' along with the media and the pressure to be thin and beautiful is putting more and more people at risk, but some could have less of a genetic tolerance than others.
Treating the Eating Disorder Gene
With this new revelation that anorexia could be identified and confronted on a genetic level has already sparked some new innovations in treatments.
One highly experimental brain transplant procedure, which involves inserting a small generator box into a person's ribs before running a wire into their brain, has thus far yielded positive results in a pair of studies conducted in the U.K. and Canada.
Because of malfunctions that some anorexic patients have in the nucleus accumbens, located deep in the middle of the brain, some patients do not enjoy eating. This treatment apparently works using a small charge in this deep brain stimulation procedure to stimulate the brain into enjoying eating again.
However, even researchers involved in the project admit it is definitely a last resort option for patients who have tried and failed all other options, but the hope is still there.
To recap: Scientists think they have identified a genetic coding to predict and maybe even prevent eating disorders. Having set their sights on a specific genetic marker, more researchers are now hoping to address the growing issue with anorexia and other unhealthy eating obsessions, which could save countless lives and inspire further progress with diagnosis and treatment.
Inspiring changes like this can give new hope to those who don't know there is help out there. If you or someone you love is struggling with substance abuse or addiction, please call toll-free 1-800-777-9588