Alcoholism Throws One of the Country's Best Horse Jockeys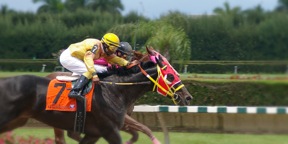 Kent Desormeaux is one of the best horse jockeys in the US today, but he is having a hard time finding an owner who will let him ride their horse. With experience crossing three decades and more than 5451 victories totaling $243,232,266 in winnings, you would think that the horse racing community would be clambering to take advantage of his knowledge and abilities in the racing world.
For now, however, Desormeaux is trying to gain back the trust of owners and trainers after doing the unthinkable: failing a breathalyzer test on the day of the Belmont Stakes. Desormeaux has admittedly and publicly fought alcoholism for many years. He has good years, and he has bad years, and this year had been particularly difficult – and it has finally caught up to him in his career.
Desormeaux Sought Alcohol Treatment After Losing His Place in the Triple Crown
The famous jockey was pulled from two of the three Triple Crown events, the most prestigious races in the sport. He was slated to ride Tiger Walk in the Preakness and Dullahan in the Belmont Stakes. In fact, he and Dullahan were favored to win after the lead horse, I'll Have Another, was no longer able to race. The odds in his favor for the race, in the end, didn't matter, as Desormeaux was not allowed to take part due to his excessive drinking.
Desormeaux, along with all jockeys, has dreamed of winning the Triple Crown with two near misses in his career, but due to his drinking he didn't even get to attempt it this season. Nevertheless, perhaps Desormeaux found the silver lining in losing the opportunity as it likely sparked him to finally enroll in a six-week alcohol rehabilitation program. Hopefully this will help him reach a sustained sobriety that will allow him to finally attain his dream; many horseracing enthusiasts believe that when Desormeaux is not drinking he is the best rider in the nation.
Jockey Tries to Prove His Love for the Sport
Desormeaux definitely feels he still has something to offer to the horse racing community: he has been working to rebuild relationships with the owners and trainers. Desormeaux tried to show his passion and dedication to the sport by breezing and galloping the thoroughbreds, which is normally work given to the young upstart riders, not seasoned jockeys. Hopefully, his tough experiences this season have put him on the road to victory in both his career and private life.
If you know someone in need of alcohol treatment, we can help. We offer high end addiction treatment for women here in Florida. Don't wait another day to find out more about our programs. Call now.